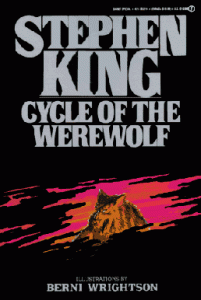 Hello friends and welcome to 31 Days with the King. I'm Mells Bells and tonight we are reviewing a short story by King from his earlier years called Cycle of the Werewolf. Some of you may know that I am an avid King fan and I am proud to say after many, many years of blood, sweat and tears, I now own every novel/short story collection published by King in their first edition release. Cycle of the Werewolf was the last addition to the collection that made it whole. And it was the last addition because it was super hard to find. This short story was published in 1983 as a limited-edition hardcover and then released in mass market paperback in 1985. Key words limited-edition – that's why it took me so long to find this rare gem.
Cycle of the Werewolf is a story about a werewolf haunting a very small town each full moon. The novella's protagonist is Marty Coslaw – not coleslaw as I erroneously called him for many years – is a 10-year-old paraplegic who first hears the werewolf in March and is attacked by said werewolf a few months later in July. In a surprising twist, the werewolf is actually a well-known member of this small town. The novella is short and easy to read but riveting enough to keep you hanging on to each word in suspense.
A few interesting facts about Cycle of the Werewolf are it was initially pitched as a calendar featuring a monthly vignette by King. Taking the liberty of developing the idea from a calendar to a short story, King incorporated graphic illustrations throughout the book as was intended for each month of the calendar. Of course, like any other bodacious 80's movie, Silver Bullet (based upon the novella) starred the one and only Corey Haim and a little someone by the name of Terry O'Quinn, who would more recently be best known as his role in Castle Rock as Warden Dale Lacy – a man with a secret so sinister his own blind wife beats it after the secret is revealed. Also, if you haven't watched Castle Rock yet, um, what rock have you been hiding under!
Comment below if you have read this novella by King and what your thoughts are on the identity of the town werewolf. If you've seen the movie adaptation (RIP Corey Haim), let us know what your favorite part was and how it related to the novella itself. And don't forget to subscribe to Superficial Gallery for all of your horror needs – we've got the stuff to satiate your thirst.