Hey y'all, it's Jackie, filling in this week for Mells. Tonight for our date with the King I am going to be talking about Lisey's Story, a novel that King himself has stated is his favorite of all the books he has written. I have personally owned a copy of Lisey's Story for a long time, but while I only recently got around to reading it, I am glad I did because it quickly became a work I am immensely fond of.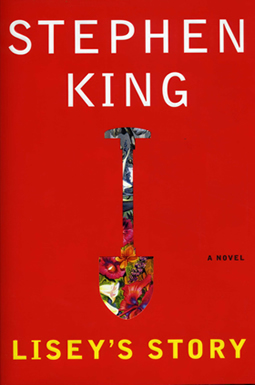 Lisey's Story tells the tale of Lisey Landon, the widow of famous, successful novelist Scott Landon, who has finally begun to clean  out her deceased husband's study two years after his death. While cleaning, Lisey is forced to recall memories of her husband so less-than-perfect that she has repressed or even completely forgotten them. As Lisey confronts not only her memories of her husband and his dark past, she also must grapple with being stalked and terrorized by an insane fan who threatens to do her unspeakable harm.
At the heart of Lisey's Story is this: the immensely interesting—and in this case, even terrifying—concept that you can be married for years to someone and think you know everything there is to know about them, only to realize when they are gone that you really knew very little of them in the grand scheme of things. I would recommend Lisey's Story to anyone looking to dive into a more romance-driven psychological horror book this October.
Have you read Lisey's Story? If so, what did you think of it? What was your favorite part? Let me know in the comments below, and, as always, don't forget to subscribe to Superficial Gallery, where we post the quality content you deserve.