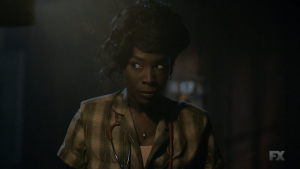 The second episode was released and it did not disappoint. I am living for the campy, cheesy, and horrific elements to this season. Although we think we have clues as to what's really going on, do we really? Camp Redwood is not somewhere I would want to be that's for sure! Let's get on with this week's recap of 1984.
Dr. Hopple doesn't last long. Jingles kills her and takes her ear after she tries to warn Margaret about his escape. Margaret is packing and has the Lord on her side. The group learns about Ed's death and Brooke fears the Night Stalker has found her. The party is busted by Margaret and the boys leave. Brooke shares with Montana that she was supposed to get married to her one true love. On their wedding day, at the alter, he accuses her of sleeping with his best man, Sam. In a fit of rage, he kills Sam, Brooke's dad, then turns the gun on himself. Montana comforts Brooke with a little smooch and Brooke decides she needs a walk.
At the lake, Brooke finds the doctor's body and Ramirez. He fails to capture her again and runs into the hitch hiker. He kills him, but then he comes back again. Ghost theory confirmed! After a second kill, Ramirez lifts his old counselor badge from 1970. The guys find Blake and freak out. They all decide to GTFO. Not before Margaret and Ramirez share a touching, yet uncomfortable, exchange in her cabin. He agrees to help her keep the camp safe since she convinces him that the powers above can make us do crazy things. We get some backstory on Ramirez and a request to see Margaret's feet.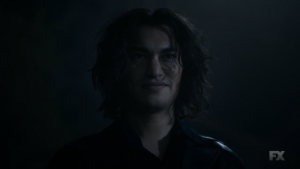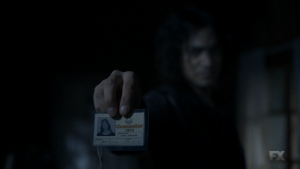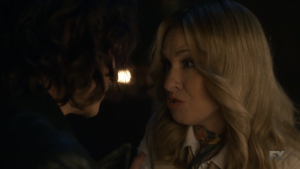 In the van the group thinks they are getting out of this nightmare when they nearly kill Rita. She's had a run in with Jingles. With the van out of commission, the group split up to find the keys to Rita's Rabbit and Trevor's motorcycle. Both groups encounter someone trying to get to them.
But let's talk about Margaret and the hitch hiker – aka Jonas. She recognizes him and his memories come back. He has a flashback of seeing her bloodied up and runs because he's scared. Funny thing here – Margaret's hair was brown in his recollection. She tells him he's a ghost. He remains confused.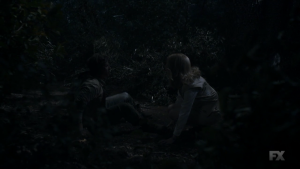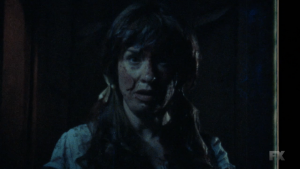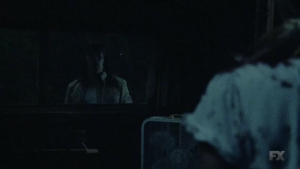 What were your thoughts on this episode? Who is Margaret? Was Jingles framed? Is this a meta move and they are all being watched big brother style? Who else are ghosts trapped at the camp? Wasn't Xavier's method acting on point here? Comment below and let us know your thoughts!