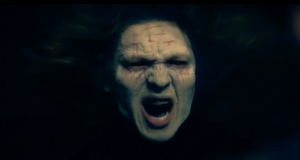 His hair is Harlow gold, his lips are sweet surprise, his hands are never cold, he's got Bette Davis eyes.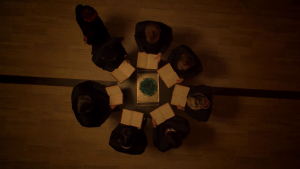 This week's episode was mind blowing in more ways than one! We learned the touching backstory of a young-ish Michael and his devil mama, The Real Miriam, his stint at the warlock version of Hogwarts, and his successful rescue mission for Queenie and Madison from their own versions of hell/purgatory. See, he can be sweet when he wants, right? The warlocks at the school for gifted youth are impressed with Langdon and are positive he can rival the position of the Supreme, Cordelia, and become the Alpha, the most powerful warlock to exist. They call a council with Cordelia, Myrtle, and Zoe to request administration of the seven wonders to Langdon to prove their suspicions.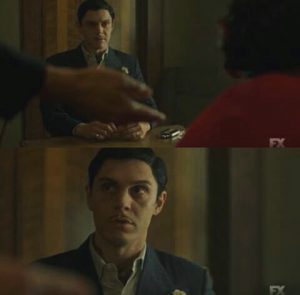 Attempting to call out Cordelia's weaknesses, we find out that Queenie was trapped at the Hotel Cortez (hello beautiful stranger!) and forced to play cards with James March in the most boring afterlife to exist. After Cordelia's failed attempts to save Queenie, Langdon makes March and the Cortez his bitch by waltzing in and taking Queenie right out. While he's at it, Langdon just phones in a favor to dear ole "dad" and makes a pit stop in Hell to free Madison who has been working in retail at the worst version of TJ Maxx I've ever seen. As he rolls up to what we know as Outpost #3, with these two in tow, Cordelia faints, although Myrtle thinks it may be the smell of prepubescent boys that caused that instead.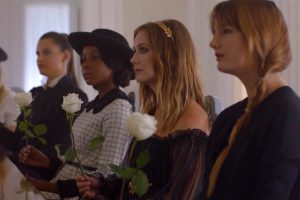 Not to be outdone by boys, the ladies at Miss Robichaux's Academy are also excelling at magic and blossoming in their own rights. Mallory of course has the attention of the witches due to her charisma, uniqueness, nerve, and talent when she's able to manipulate the state of an object by turning rose petals into butterflies then back into petals. Pfffft, I'd like to see Langdon do this instead of pulling some dead of winter trick out of his ass nearly killing everyone in the room. It is then that Myrtle appears with the news that a council has been called and the rest is well, history. Cause it's also written above.
How did this episode rank in your AHS favorites? Comment below and let us know your thoughts on the meeting between the witches and warlocks. Do you think Michael is more powerful than Cordelia? Hit subscribe and be sure you're the first to know what delicious details we will be dishing out as we press on through American Horror Story: Apocalypse. Join Acadia and Mells every Friday night at 10:15pm EST on Youtube to discuss the latest episode at American Horror Stream.