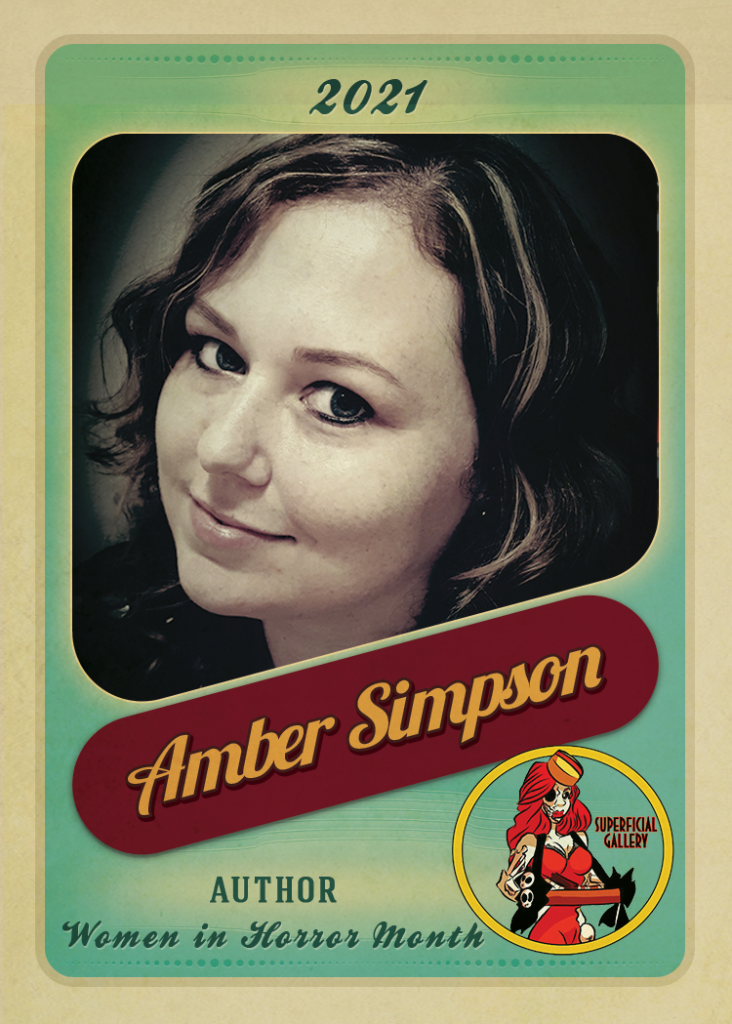 Amber M. Simpson is a rookie to the Gallery WIHM event. She is an Author.
How have you fared during the pandemic?
The pandemic has been hard, to say the least, in my personal life as well as my writing career. Though I lacked a bit of horror-writing mojo during the second half of 2020, I'm hoping to gain it back this year with a lot of exciting new projects lined up (and plenty of old ones, waiting to be finished!)
What's been keeping you busy?
HOMESCHOOLING! My sons, ages 10 and 12, have been doing school virtually since August and if my hair hasn't turned grey yet, just give it 'til May!
What was your favorite piece of new horror media from the last year?
I watched a lot of horror movies and TV shows this past year and read a few great books too, but right away I think of Lovecraft Country and The Haunting of Bly Manor as two of my favorite pieces of new horror media from 2020. I devoured these shows, falling in love with their interesting characters and dark twists and turns. I'm a sucker for supernatural/paranormal horror.
What are you looking forward to most in the horror community for
2021

?
In 2021, I'm looking forward to becoming more involved within the horror writing community, joining more groups, and finding more opportunities for getting my work published.
What keeps from throwing in the towel when things get tough?
The little voices in my head, of course! I can't help but daydream, and in so doing, create. Even when writer's block hits hard, I can usually move on to another project for the time being until I'm ready to come back to the first thing. I am rarely out of ideas.
What projects do you have coming up?
I was thrilled to be invited to feature in an upcoming anthology by one of my favorite indie publishers, but for now, it's top secret! Other than that, as always, I'm working on my mystery/horror novel, Wolves Hollow (one of these days I'll get it finished!) as well as working towards getting stories submitted to several other anthologies coming out this year.
Important Links for Amber M. Simpson