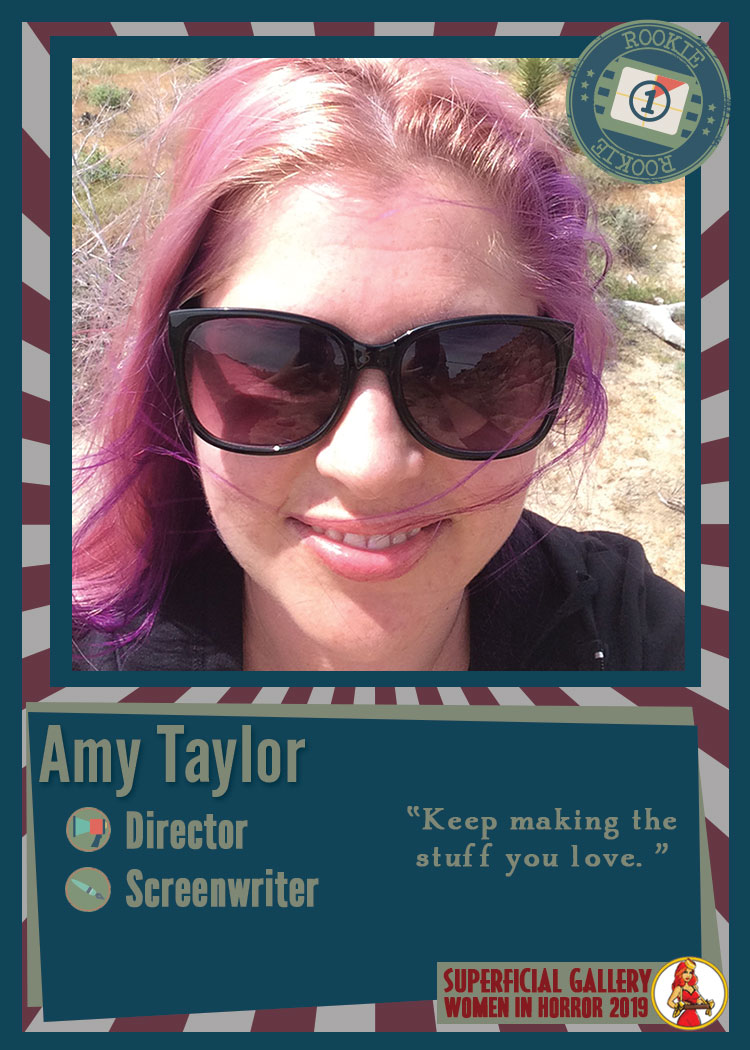 Find Amy Online!
You can help out our chances for festival selection and distribution by following Hunter's Weekend on all the things:
I also have a web series – Veronica Mars meets an Edgar Wright film – that you can check out on YouTube.
Our Conversation with Amy Taylor
Amy is a Director and Screenwriter and is a rookie this year!
Which of your achievements to date are you most proud of?
So far, I'm most proud of my first feature film, Hunter's Weekend. It's a mockumentary horror-comedy that we shot in 5 ½ days on the micro-est of micro budgets. It's currently making the festival rounds and getting a great response from audiences – laughing at all the right parts which is all you can ask for a comedy.
What's your favorite horror film and why?
I can never answer these types of questions with just one. I love a horror-comedy so it's probably no surprise that two of my favorites are Shaun of the Dead and The Cabin in the Woods. For me, Shaun is the perfect blend of horror and comedy, while I love the way that Cabin is a response to and comment on the genre itself.
Who is your hero in the horror world and why?
I was about to say Ripley, and then I realized you probably meant a real person. I was always a big fan of Buffy and the Whedonverse in general, so even though some unfortunate things have come to light about Whedon himself in recent years, his work was a huge inspiration and my earliest lessons in writing and filmmaking were listening to his Buffy commentaries.
Share a practical tip for a woman who wants to do what you do.
Don't wait for someone to give you the greenlight. If you're a filmmaker, take stock of the assets that you have and then write something that works within those parameters. Of course, the trick is to make sure that you're still telling a story that's important to you, but I often find restrictions to be helpful when I'm writing.
Inspire someone who is not where they want to be in the industry yet.
Keep making the stuff you love. If you are passionate about the stories you tell, you'll find your audience.
Scare the crap out of us with something you have done or plan on doing!
I shot an entire feature film in 5 ½ days! That was pretty scary for the 1st AD (who has to do the schedule and who was also me…because we all had about five different jobs on set).
What projects do you have coming up?
I'm currently working on a script for my second feature – it's a zom-rom-com tentatively titled "After the End.