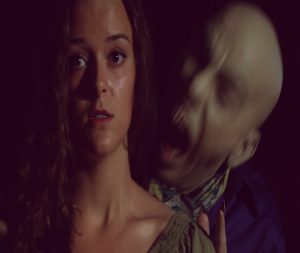 Priest meets vampire. Talking dog comes to his aid. Then things start to get weird.
Synopsis
Part "Naked Lunch," part "Alice in Wonderland," Enchiridion is a vampire film like no other. Set in 1966, this tale features not only coffins and blood-suckers, but a groovy pterodactyl, toad-licking junkies, and a gun-toting greyhound.
Enchiridion is the story of Father Noah Gregory, a young priest who is approached by federal marshals with an unusual request: help them deal with a vampire they have taken into custody. Drawn in by tales of the vampire's history, Noah's own life begins to take strange twists. And when the vampire disappears, things get very weird.
See the film that has delighted and confounded festival audiences and inspired the slogan: embrace the weird.
Starring
Cory W. Ahre, Joel Jeremy Hererra, Jessica Bell, Seraluna Sanchez, Tam Jackson, Dustan Costine, Larry Boozer, Allen Menefee, William Myrick, Reid Self
Bloodsucker's Handbook is written, produced, and directed by Mark Beal