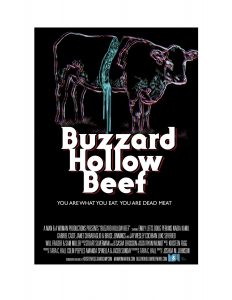 Buzzard Hollow Beef follows a family, who after experiencing vivid and terrifying hallucinations believe they have been poisoned by hillbilly cannibals hunting them like prey.
FILM SYNOPSIS
Still reeling from her divorce and struggling as the single mother of a 9 month old, Jordan Vollmer looks forward to a relaxing Thanksgiving weekend with her family and her best friend, Paige. Unfortunately the guy she's been blowing off has crashed the Vollmer's holiday weekend, tagging along with Jordan's brother, Joel. As the group ventures into the small town of Buzzard Hollow they are greeted with strange and unsavory characters known around these parts as the Solomon family.
Their suspicions surrounding the Solomon's are aroused by the fact that they all seem unwilling to talk about the beef that they serve in their hamburgers and sell in their butcher shop. The Vollmer family experience horrifying hallucinations and begin to suspect that the Solomons are somehow involved when they catch Garrett, Darrell & Cody hunting on their property. Jordan narrowly escapes their rifle sights and the danger quickly escalates as they are picked off one by one…
From Writer and Director Tara C. Hall
"The story for Buzzard Hollow Beef was inspired by a trip to North Carolina and our dealings with the locals there. Although they were friendly, they seemed suspicious of us, which in turn made us suspicious of them. Our daughter was about 6 months old and while many people in the town offered her diet coke and other things we would never give a baby, one woman stood out. She cornered us on the street and warned us not to let anyone touch our baby. We were struck by her paranoia and it got us thinking. If someone were to touch our daughter, what's the worst thing they could do to her? Eat her? As parents, we've since become immune to strangers saying shit like "don't let anyone touch your baby", but we also became hypersensitive and aware of the more mundane, everyday terrors. In our modern world, there is much to fear about what we put into our bodies: genetically modified ingredients, e. coli, salmonella, sugar free gummy bears, to name a few. Most people don't know where their food comes from or what is actually in it. All of these elements inspired us to make this film. Buzzard Hollow Beef isn't just "Cannibal Horror" or "Body Horror", it's "Food Horror". Make no mistake, this isn't a social commentary. It's a genre piece. It's a horror film filled with suspense, gore and some juicy gross out moments."
Buzzard Hollow Beef stars Emily Letts, Doug Perkins, Nadia Kamil, Gabe Caste, Bruce Jennings, and Janet Chiarabaglio. You can catch it streaming now on Amazon Prime!
No tags for this post.