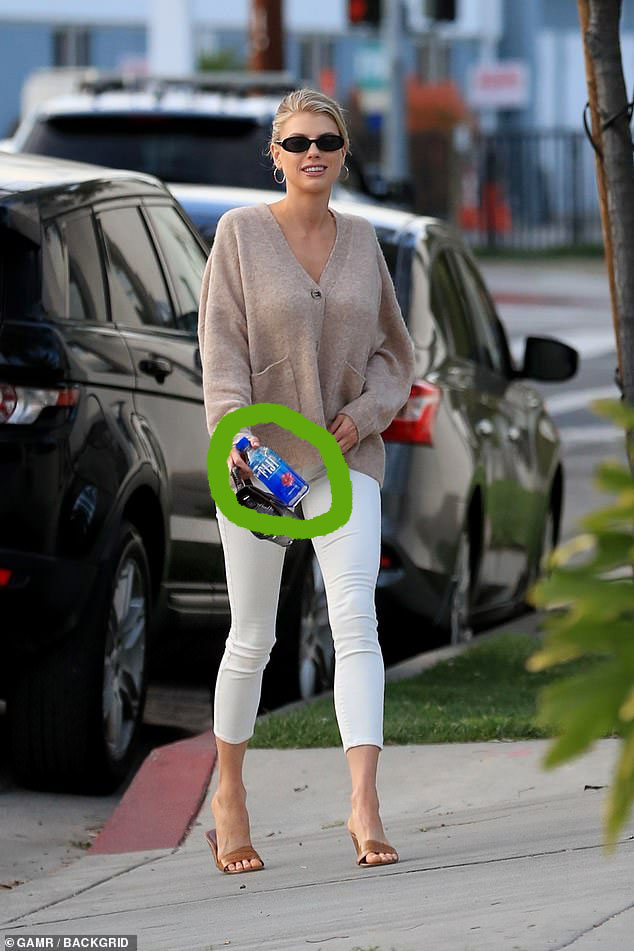 So Charlotte McKinney might be in a movie soon (accent on might) but it is not like she isn't making money, and these paparazzi pictures from Los Angeles on Tuesday.  I can't imagine what it's like to be a star and have people take pictures of me everywhere I go. But I CAN imagine what it's like to have a job where I need to get my picture taken, and that is what we are witnessing here.  See how I highlighted the water bottle in the pic above (and the one below)?
Charlotte just happens to be a "brand ambassador" for Fiji water. I know this because I get a notification on my phone when she posts on Instagram because she is one of the three pillars of the gallery! Anyway this is a good example of how the business of being beautiful works.  She (or her people, I am not sure if she is fancy enough to have people but probably) tell the paps that she will be at such and such a place at such and such a time.
How do we know this? Because when there are pap pics of someone like Emma Roberts they are grainy and it is obvious that the paps know she goes to Starbucks and they hang out waiting for her. These pics of Charlotte are very clear!  So then what happens?
Well, the pap needs to get paid for their time and they sell the pics to someplace like….The Daily Mail so Connie Rusk can write this (click at your own risk, that site is made of ads):
She celebrated her 27th birthday earlier this month.

And Charlotte McKinney looked super stylish as she headed out shopping in Los Angeles on Tuesday. The actress cut a chic figure in a brown wool cardigan and white cropped skinny jeans which accentuated her leggy frame.
So they get clicks which gets them paid, the photographer got paid, and Charlotte got paid. Essentially the only entity getting screwed on this is me!  I guess you can join the Gallery Patreon if you want. I don't know. I would really rather become part of the Fiji water economy.  Sigh.