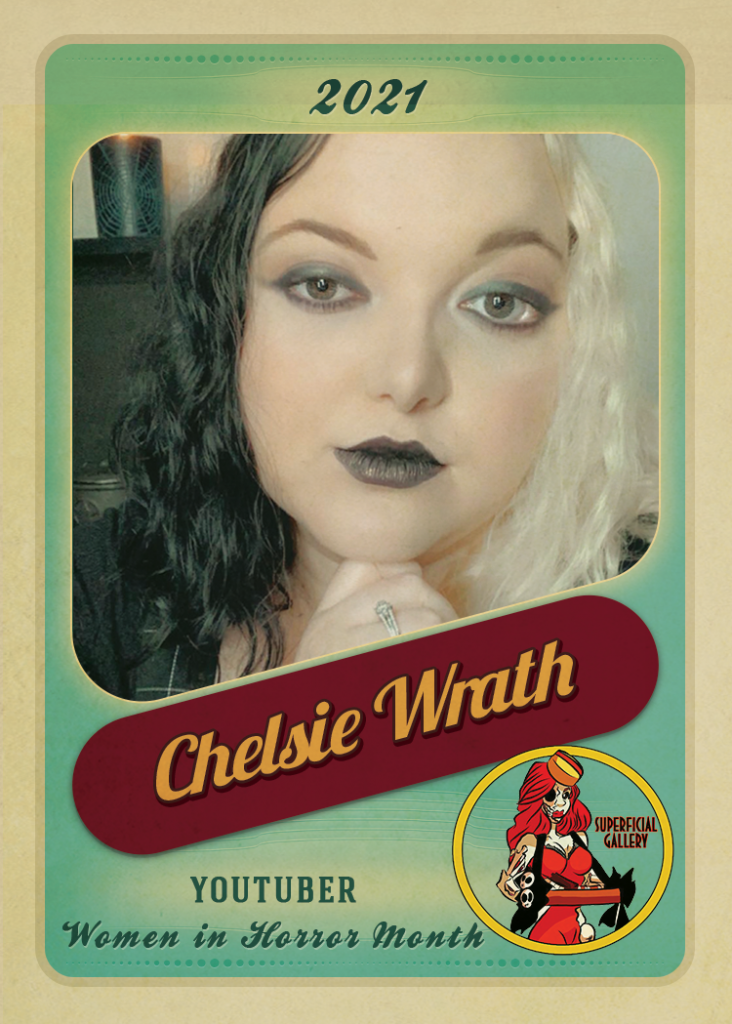 Chelsie Wrath is a rookie to the Gallery WIHM event. She is a Horror and Paranormal YouTuber.
How have you fared during the pandemic?
I've fared quite well as an introvert.
What's been keeping you busy?
Creating new videos as well as watching and sharing lots of Horror movies!
What was your favorite piece of new horror media from the last year?
From 2020 I really enjoyed the movie HOST, I love found footage horror movies and this really took me down the rabbit hole of watching Unfriended, The Death of a Vlogger, and The Den. All great movies.
What are you looking forward to most in the horror community for 
2021

?
I'm looking forward to the growth of my channel, but also Terrifier 2, Halloween Kills, and Rob Zombie's album The Lunar Injection Kool Aid Eclipse Conspiracy!
What keeps from throwing in the towel when things get tough?
I love talking about Horror Movies and The Paranormal. Even if only one person enjoys what I do or enjoys a movie I recommend I'd be happy!
What projects do you have coming up?
I'm so excited to say that I will be doing Paranormal Investigation and I plan on doing videos about true paranormal phenomenons around the world.
Important Links for Chelsie Wrath