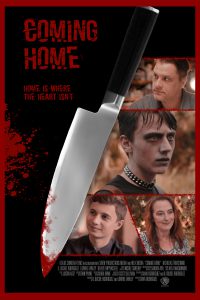 Synopsis
The Family Way is a unique twist on an old horror story, combining powerful themes of self-discovery, self-awareness, and self-preservation with a truly unusual cast of characters that will leave audiences rooting for the bad guys.

By all appearances, gas station owner Richard Cultry is a pillar of a small community. He's a family man with a doting wife, a well-educated son, and a heart large enough to adopt a mentally-challenged boy and a socially-awkward teenager.

However, everyone in his household is also a vicious killer. In the tradition of the infamous Bender clan of the late 1800s, the Cultry Family preys on travelers and everyone has a role to play in the real family business.

After springing their trap on a group of vacationers, the Cultry family discovers that one of their intended victims may have the potential to become one of their own.
From Writer Shiva Rodriguez
There is a common trope in the horror film industry, that of the "psycho killer family". It's a hell of a fun trope and it works in quite a few circumstances, but it doesn't really stand out in other ways with horror films. It's very hard to care about the antagonist, which has become a much stronger trope for quite a few decades.

We started out imagining just how such a family could ever come to be and it became clear that anything we had ever seen on the big screen just wouldn't ever work. Loosing a bunch of rabid dogs only leaves you with a single survivor. Not a bad premise for a film, but unsatisfying, as our question remained unanswered.

So we followed the second trope, and we modeled our characters after very real serial killers. We put together a group of people that you cannot help but like. We got rid of the maniacs bursting through blood-spattered walls and replaced them with people who are proud of themselves and their ability to blend in with the real world.

We basically came up with a family that formed under some strange but not impossible circumstances, whom we genuinely want to know what happens to them. This was very different from the families that you simply wait for some explanation of how a survivor eventually overcomes them.
Cast and Crew
Nicholas Trivisonno – "Crawford"
D. Duckie Rodriguez – "Richard"
Lowrie Fawley – "Sue"
Blayze Hippensteel – "Jeffrey"
Alyson Ryskamp – "Kathy"
Kinsey Krutzler – "Sarah"
Emre Orun – "Aaron"
Producers – Lowrie Fawley and D. Duckie Rodriguez
Director – Shiva Rodriguez
Director of Photography – Scott Sullivan
Unit Production Manager – Sandra Nye
Audio – Ayla Mackinnon
Art Director – Kira Howe
Key and SFX Makeup – Nicole Sweeney
SFX Props – Shiva Rodriguez
Film Editor – Devin Payne
Trailer Editor – Garo Nigoghossian
Music Score- Justin Katz
Craft Services / Catering- Virginia Jasper
Locations and Camera Assistant – Olivier Wagenheim
Camera Assistant – Steven Cardona
Production Assistant – Eric Clairmont
Production Assistant – Garith Pettibone
SFX Assistant – Jade Weber
Awards
Sunset Film Festival (June 2018)
Official Selection – The Family Way

Richmond Filmmaker's Showcase (Mar 2018)
Official Selection – The Family Way: Coming Home
Winner – Best Editing

Macabre Faire Film Festival (Jan 2018)
Official Selection – The Family Way: Coming Home
Winner – Best Screenplay
Nominated – Best Dark Drama
Tampa Bay Underground Film Festival (Dec 2017)
Official Selection – The Family Way: Coming Home
Nominated- Best Horror
Nominated- Best Leading Actor (Nicholas Trivisonno)
Nominated- Best Supporting Actor (D. Duckie Rodriguez)
Virginia Film-Maker's Showcase (Nov 2017)
Official Selection – The Family Way: Coming Home
Upstate NY Horror Film Festival (Oct 2017)
Official Selection – The Family Way: Coming Home
Pop Ninja Film Festival (Oct 2017)
Official Selection – The Family Way: Coming Home
Things 2 Fear Film Festival (Oct 2017)
Honorable Mention – The Family Way: Coming Home
The Halloween Horror Picture Show (Oct 2017)
Official Selection – The Family Way: Coming Home
Women in Horror Film Festival (September 2017)
Official Selection – The Family Way feature screenplay
Finalist – The Family Way feature screenplay
Semi-Finalist – The Family Way: Coming Home
Oniros Film Awards (July 2017)
Official Selection – The Family Way: Coming Home
Winner – Best Young Actor (Nicholas Trivisonno)
Nominated – Best Horror Film
AAB International Film Festival (June 2017)
Official Selection – The Family Way: Coming Home
Winner – Best Director (Shiva Rodriguez)
Hellfire Short Film Festival (June 2017)
Official Selection – The Family Way: Coming Home
Roma Cinema Doc (June 2017)
Official Selection – The Family Way: Coming Home
Spotlight Horror Awards (June 2017)
Official Selection – The Family Way: Coming Home
Winner – Silver Award
Los Angeles Cinefest (June 2017)
Semi-Finalist – The Family Way: Coming Home
Global Grit Film Festival (June 2017)
Official Selection – The Family Way: Coming Home
UK Monthly Film Festival (May 2017)
Official Selection – The Family Way: Coming Home
Winner – Best Horror