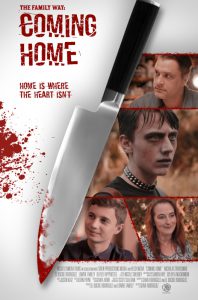 Wow. Just… wow. This is one of the more intense and cinematically stunning films I've seen in a long time. I'd go so far as saying that the beginning of this film is a bit hard to watch. This is in no way a negative comment on the film. I thought it was absolutely brilliant and I was glued with eyes wide open from the first second to the last. It's because it was so beautifully shot that the first couple of minutes make for a brutal and intense shock. It is so superbly acted and the cinematography is so perfect that you can't help but feel the pit of your stomach ball up. Again, I'm not saying this as a negative. If anything, I actually mean that as a compliment.
Coming Home is the tale of Craw, a teenage serial killer in full goth regalia, and his apparent induction into a serial killer family. It is stunning, well acted, and filled with its fair share of blood. Craw is definitely twisted and his kills, ultimately fueling his deranged artistry, are selective and incredibly violent. This film, as the title says, is about his coming home to a family that is like him. It is clearly a dangerous and potentially lethal home but it is one that would accept and encourage him, nonetheless. The shock that this invitation brings, an invitation sent in a superb serial killer fashion, is perfect. Nicholas Trivisonno plays Craw so perfectly that the reveal of his new family feels just as surprising to the viewer as it does to him. The kid definitely has a long acting career ahead of him.
Now, on to the only reason I'm sure anyone actually reads these for, my technical comments. This film is stunning. Period. Bottom line. Full stop. The colors are brilliant. The sound work is clean and builds tension at exactly the right times. The direction and acting are perfect. The special fx and makeup look perfect. Again, this is just a stunning film. I cannot wait to see what they do with the feature. It's going to be amazing!
I really do want to stress that Coming Home is beautiful and well worth the watch. Do not take me saying that it starts out with a shock to mean anything other than that. This film centers on a teenage serial killer. Seeing a horror film with a kid murdering people or kids getting murdered is always more shocking than watching adults do the same. It's taking that risk and the impact that it has that makes this film that much more brilliant and director Shiva Rodriguez is perfectly happy making that impact. I really cannot stress that enough.
I really cannot wait for the feature. It's going to be bloody brilliant!