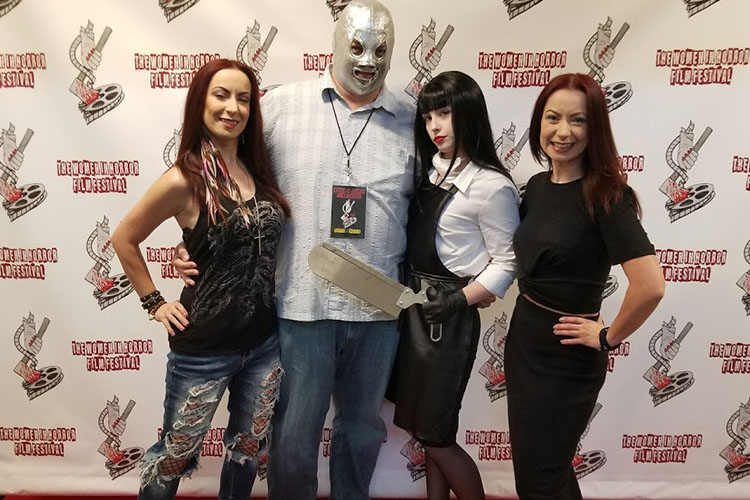 The Women in Horror Film Festival was one of the best experiences the Gallery has had in quite a while. After some last minute travel changes, I was the one who ended up being able to go and boy was I glad. I had never been to an actual Film Festival before because I thought they were snooty This was the opposite of that! Made great friends, hung out with movie people and saw some really good movies. It was also pretty funny that literally NOBODY was dressed up as anything for this so it was a bunch of normal people and me with the mask. I regret nothing!
Next year I want to try to bring a bunch of horror fans to the show because I think fans need to realize that these folks want people to see their movies. And not only do you get to see a TON but there are also great panels and you get to hang out with folks in a way that most conventions cannot match. Now read Katie Anderson's piece she did for us. She came on Sunday and as someone who is scared of horror movies, she did great!
Katie Anderson Report
At this year's Women In Horror Film Festival (WIHFF), one category of short films stood a little taller than the rest. The Student film block screened on Sunday afternoon, showing six of the best short films produced and directed by students across the world. We sat down with the teams behind two of these films to get an inside look at how they came to be. But before we get to the questions and answers portion, let's take a closer look at each of these films.
Sabrina Grimes photographed and co-wrote Deadmeat along with Drew Mazzarella, who directed the film. It focuses on a group of high schoolers being chased by a butcher-knife wielding serial killer, but don't expect this to be just another standard set of troupes. The film turns the typical slashed format on its head with an irreverent spin. It delivers a truly fun ride where the only disappointment is how soon the ending comes.
Chasing Jenny was one of two animated shorts in the block. Directed by Reanna Miller with Christopher Dobbs, Jacob Dudley, and Andrew Salo rounding out the crew, it's a 2D animated horror/dark comedy tale. All four were second year students in the Ball State Animation Graduate Program. The short also takes the road less traveled by featuring a female villain. It leaves audiences wanting more, and wondering if anything they know about horror stereotypes is true anymore.
Q: For Miller, what inspired you to make an animated film?

A: "We were given the opportunity to direct three films [as second years] with the class. I wanted to direct the 2D animated film, and I had a horror/dark comedy storyboard I created in my first year of the program, thus Chasing Jenny was born. I was so excited to see the story come to life.

Q: For both Miller and Grimes, what inspiration did you draw from for your films?

Grimes: "Drew and I are big fans of the nineties, and we wanted not only the characters and substance of the film to be reminiscent of that decade, but the look and feel of the film itself. I'm personally a huge fan of classic slasher films, and many of the shots and lighting designs are also based off of the classics like Scream, Halloween, Nightmare on Elm Street, and even Prom Night.

Most importantly, we wanted to create a film that was a fun ride for the audience. What we didn't expect was how fantastically fun it would be to shoot. We had an amazing 15 person crew who were all joys to work with, several volunteers who came out just for the love of filmmaking, and an incredible, hilarious, outrageous cast of 7 talented actors, who all enjoyed great relationships with Drew as a director."

Miller: "I personally love horror movies. They are super engaging as film goes, and there's something beautiful about tapping into fear, one of our most primal instincts. I was also given the opportunity to write a research paper during my graduate career about Women in Horror. I was already familiar with women in horror just by watching movies I loved. Many horror movies lack representation of different groups, and as I got older, I started to realize this. I wanted to dive deeper into the role women played in horror. One of my all time favorite movies is A Nightmare on Elm Street. Nancy is perhaps one of the best final girls ever, and of course, Freddy is one of the best villains. I wanted to make a character that was female, yet terrifying. I feel as though there are not many Freddy-equivalent female characters, but I think that is changing. For example, I also love Babadook, not only because the mother plays a duel heroine/villain role, but also because the film is directed by a female."

Q: For Miller, you won the Lizzie for the best student short. Can you tell me a bit more about what that experience was like?

A: "I unfortunately was not able to attend the festival this year, but I hope to in the future. I kept up with posts on the festival via social media, and it looked like a blast. Vanessa Ionta Wright and Samantha Kolesnik are super amazing women for getting this festival together. I was informed Chasing Jenny received the award, and I could not have been more excited. The crew is so honored to be recognized. For myself personally, it really helps solidify the feeling that I can truly pursue something I love, and there are amazing people out there who are willing to support my endeavors."

Q: For Grimes, what's next on the horizon for you and your team?

A: "I'm currently residing in Tallahassee, working on a few music video projects and one big 40 minute horror short. But, I will be headed to Atlanta next May!
Drew is on his way to LA, and aiming to remind people that it's okay to be weird through genre benders, period pieces and escapist films. When he is not writing and directing he is a highly focused production team member throughout every step of the production process."
Both films are still currently making the rounds on the film festival circuit, so keep an eye out for them to come to a show near you. In the meantime, check out the photo gallery from Deadmeat below. You can follow the path of Chasing Jenny on Facebook here: https://www.facebook.com/chasingjennyanimation/. Updates on Grimes and her work can be found here: https://www.sgscamera.com/.