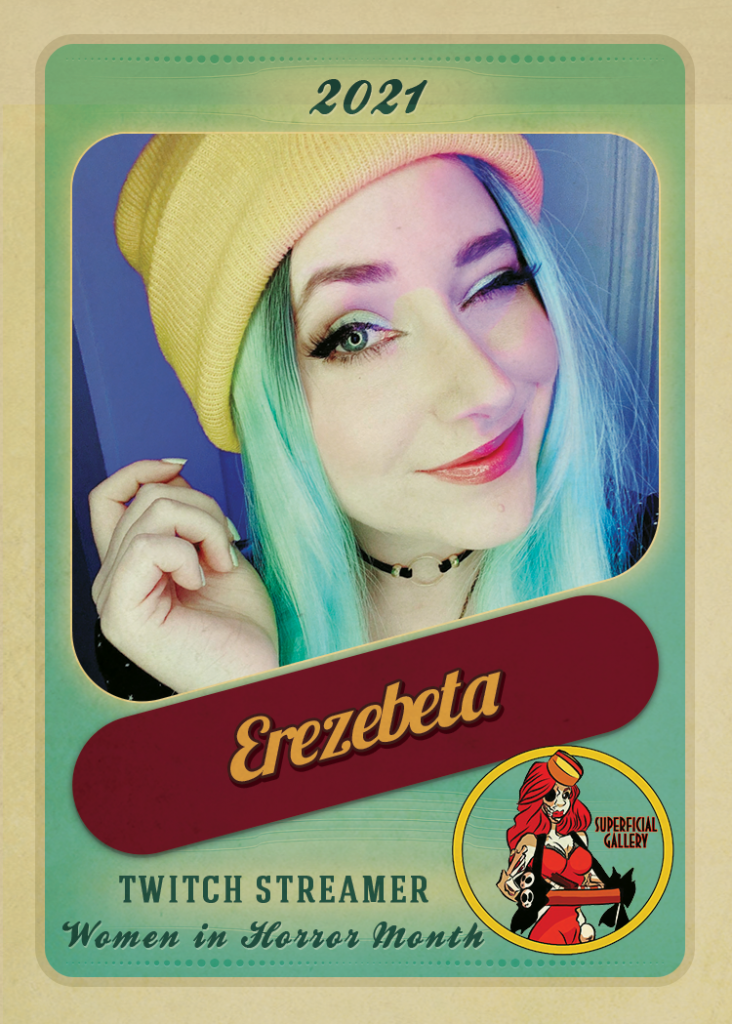 Erezebeta is a veteran to the Gallery WIHM event. She is a Twitch Broadcaster.
How have you fared during the pandemic?
2020 has been life changing for some many including myself. I ended up taking a 3 month break from content creation back in the Spring. I needed to take the time to figure out how I was going to get through the rest of the year. One of the most valuable things I've adapted is meditating every night before bed. It's improved my sleep and genuinely look forward to bed where as before it was a nightmare.
What's been keeping you busy?
In the past year I accomplished 31 Days of Halloween Part 2! We streamed and cosplayed again every day in the month of October. I joined Paws Your Game Advocacy Team to help bring awareness and raise funds for animals in shelters. Recently I also was added to the 1000 Dreams Fund BroadcastHER Dream Team to help other womxn reach their dreams in content creation. I've been writing more for Superficial Gallery and was accepted on the game Shotgun Farmers Stream Team. It's been a year!!
What was your favorite piece of new horror media from the last year?
I really enjoyed Host on Shudder. The execution was amazing for being entirely shot via webcams during the pandemic. I think we may see a new surge of found footage horror and I'm incredibly excited for it!
What are you looking forward to most in the horror community for 2021?
I'm curious to see if we get a growth in short form horror content on platforms like Youtube. With 2021 still dealing with a pandemic I feel that this will really be the year of independent creators.
What keeps from throwing in the towel when things get tough?
100% my community. I don't think they always realize that just having them there to talk while I'm streaming is one of the best things someone can do for me. When I'm streaming and gaming it's a break from everything IRL that may be falling apart. And having people there to enjoy that time with is the best gift ever.
What projects do you have coming up?
I'm doing monthly cosplays this year which is very exciting!! I'm hoping to start broadening into other platforms like Youtube. Still finding my direction but feeling closer than ever!
Important Links for Erezebeta