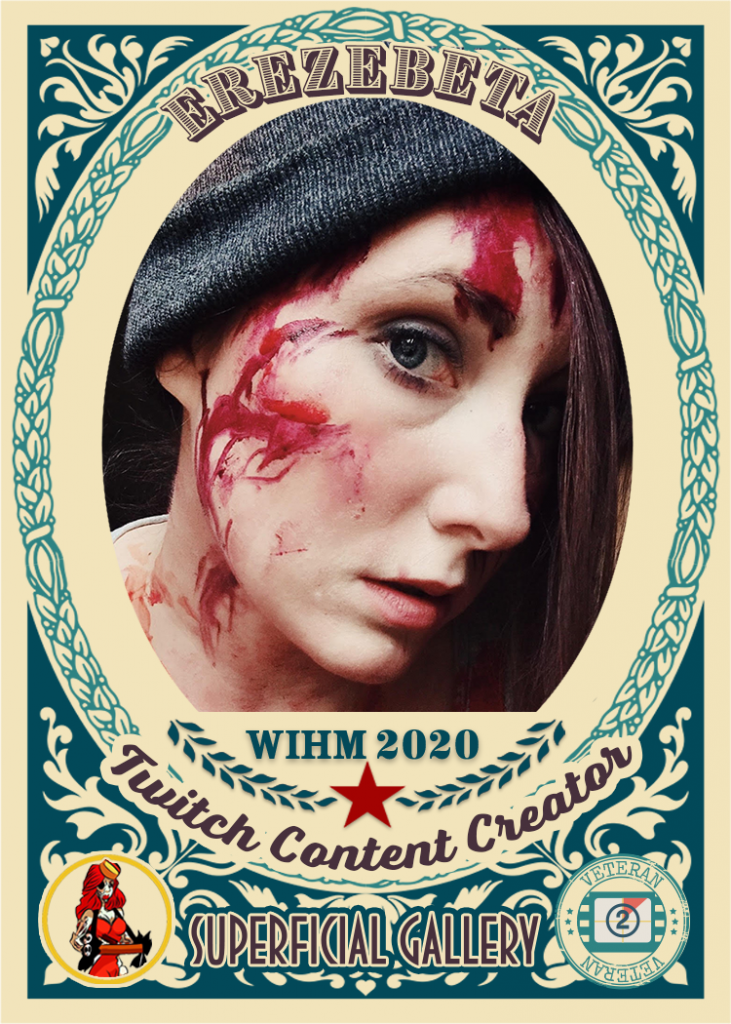 Erezebeta is a veteran to the Gallery WIHM event. She is a Content Creator on Twitch.
What motivates you to do what you do?
THE LOVE OF HORROR THAT'S WHAT! Seriously, my mother had a lapse in judgement when I was a kid and seeing films like Child's Play and Jaws at age 3 turned me into a very weird little human. Creating content is a wonderful way to embrace what I live and strive to make it my career.
Who is your favorite woman who does what you do?
MadeYewLook. She does AMAZING body art, creating content on both YouTube and Twitch. I spent the later part of last year getting into cosplay and having worked as a makeup artist, she is a huge inspiration to me!
If you had one wish for women in your space in 2020, what would it be?
That we all get to know each other!! Digital platforms are really hard to gather real connections, and for women especially. I need more gal pals in my web life!
Share a practical tip for a woman who wants to do what you do.
Don't give up, just change it up. There are times when you feel like you've hit a wall with content creation. When you feel like you aren't growing or you're just burning out. Cosplays were my way of having more creative outlets while still doing what I loved (streaming horror and fantasy games).
Inspire someone who is not where they want to be in the industry yet.
Start today. If there's somewhere you want to be, imagine if you had started really working towards a year ago…where would you be now? Make today the day that you create what you want. Nurture it and watch it grow.
What scares you?
There are some real life situations that are so terrifying that I don't even want to think about them. So I'll focus this on horror. 1-Anything that scurries. 2-Supernatural entities that are pure evil. 3-creepy kids.
What projects do you have coming up?
Aside from streaming on Twitch I am trying to get back to being more consistent with YouTube. I'm also working on an e-book! Hopefully will be out this summer!
Important Links for Erezebeta