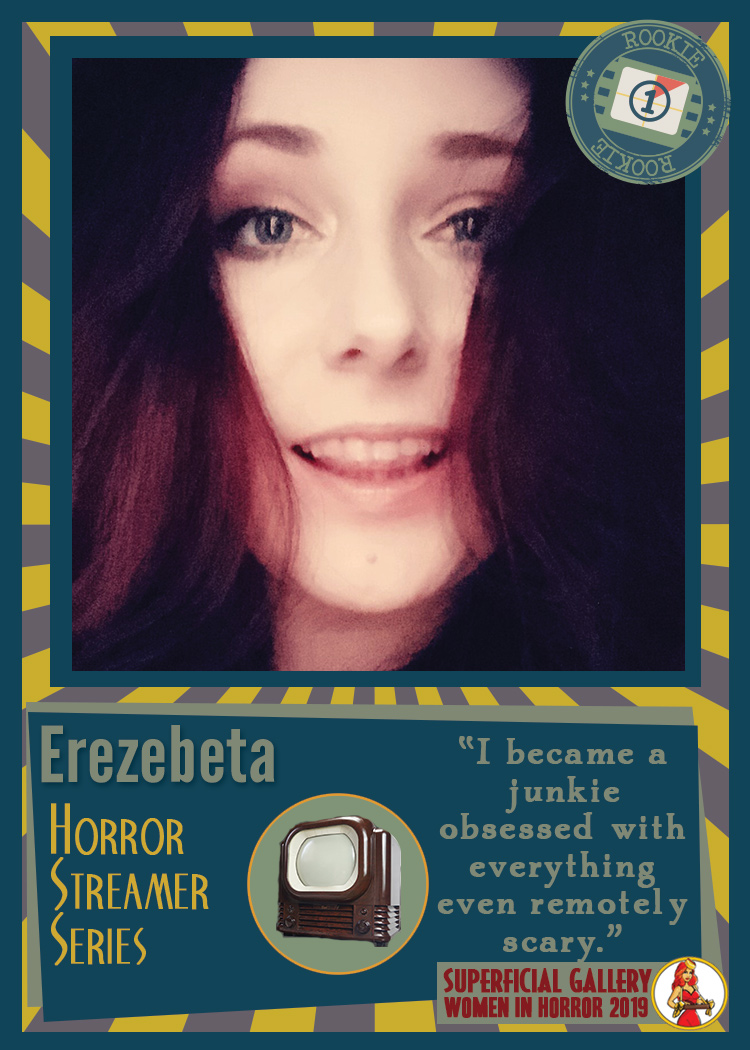 Our Conversation with Twitch Streamer Erezebeta
Erezebeta is a rookie to the Women in Horror Month Celebration and streams horror games on the Twitch platform. She is our third streamer and we are honored to have her!
Check out the interview below, and be sure to follow her on Twitch and tell her we sent you!!!
Why do you prefer horror games?
I've been playing video games since WoW was vanilla and Soulcalibur was on Dreamcast. The first horror game I played was Fatal Frame, followed by Silent Hill 2. I loved horror movies and the games were much more immersive. At first though I made my high school boyfriend play them as I watched, over the years I built up the courage to do it myself and haven't stopped since.
Do you like horror in other media
EEERRRMAAGAWWD yes. Stephen King is my favorite author with his book "Everythings Eventual" being my favorite (1408 is an amazing story…ignore the film though). As a teen I collected the "30 Days Of Night" and "Hack Slash" comics. I blame my mother for showing me Child's Play and Jaws in the same year at age 3. I became a junkie obsessed with everything even remotely scary. Also Goosebumps was the jam of the 90's.
What are some of your favorite games?
Dead by Daylight which I stream primarily. Fatal Frame series is still some of the most tense game play with beautiful story telling. Until Dawn pulled off what every decision based game wishes it could have. Also I enjoy Elder Scrolls Online and Apex Legends…don't @ me.
What do you like about streaming?
I have Late Stage Neurological Lyme Disease. I went too long without testing (thanks 11 doctors I saw then) and it's disabled me in many ways. It forced me to leave my job working at the animal shelter as well. My hubs suggested I stream since I already played games…and it's opened a new world for me. I never really play co-op or multiplayer games (even in WoW I solo quested) and now I have a community to play with…and that means the world to me.
If you could build your dream horror game, what would it be?
I would want to take players through a journey where you feel you need to know what happens to the characters. I would want the atmosphere to be unexpected and unnerving. Creating it's own tension while you focus on one thing and never see another one coming. No zombie games though…wee bit saturated don't ya think?