Hey y'all, it's Jackie, back with another Friday 90's! In honor of the December 17th birthday of my favorite bass player—and favorite Twitter follower—Mike Mills from R.E.M., I'm going to be recapping one of the best R.E.M. songs to feature his melodic bass lines.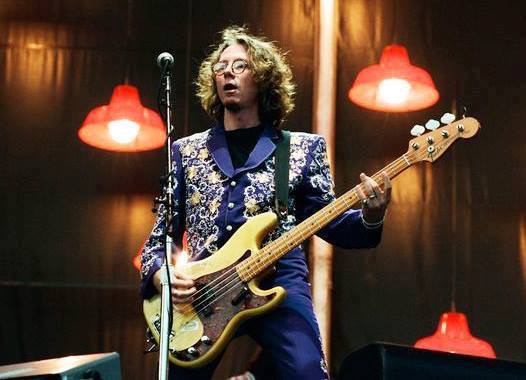 The song in question is one "Man On The Moon", the Andy KauThank fman/Fred Blassie/Game Of Life worshipping epic that questions everything from whether Charles Darwin had the balls to ask about evolution to whether you can have a spiritual experience in a truck stop. The answer? Yes to both, and this song could easily be compared to a spiritual experience by those who were privileged enough to see R.E.M. perform it live.
The song itself is built on a slightly slushy, very strummy guitar riff by Peter Buck (who also laid down some wonderful slide guitar on the track, a rarity for R.E.M.), Michael Stipe's "yeah, yeah, yeah"s amidst lines about Egyptian snakes and ghosts for offerings (whatever that means), and the combined, solid-as-steel rhythm section comprised of soulful drummer Bill Berry and bass player Mike Mills. As a whole, with the combined backup vocals by Mills accompanying those of Stipe, the song is transformed from a mere stream-of-consciousness list of celebrities and board games and into an ode about questioning what you believe.
So, celebrate the birthday of a bona fide bass playing badass and check out the original music video for the song below!