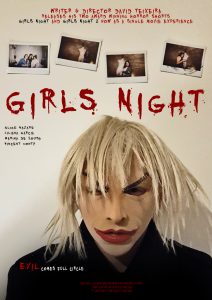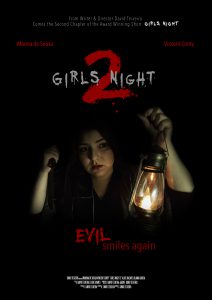 Once again, I'll be doing something a little different for this week's review. I was approached by writer and director David Teixeira about reviewing his films, Girls Night and Girls Night 2, both French language slasher films following the exploits of a masked slasher and his victims. Girls Night had come out almost a year ago and its sequel was seeing a release soon, so I was absolutely interested, especially when he asked if I'd like to rview them together. Now here we are, having watched both films back to back, feeling much happier with the decision to review them together over waiting for closer to the sequel's release. David has done an excellent job with both films, Girls Night having one a number of awards, on a very small budget and with a cast comprised of actresses entirely new to the experience. It's a very well inspired slasher film that does an excellent job on a small budget.
Girls Night and Girls Night 2 run together almost like one film. You could easily switch the credits of the sequel for a "One year later", title card and the films wouldn't suffer for it. The first entry centers on the titular girl's night. We're introduced to a group of friends that are enjoying a night of light partying for Halloween. There is plenty of wine, dancing, picture taking, and as the evening starts to wind down, the telling of urban legends. It's here that we find our final girl Jess, played by Marina De Sousa, is quite terrified of the subject. As it turns out, this is not an entirely unreasonable fear. After leaving her friends to collect herself, even stopping to face her fears with a game of Bloody Mary, she finds her friends in a dark and bloody scene and is soon nearly the third victim of our freakishly smiling killer. It's here that the second film picks up. We're treated to a short recap of the previous film and then it is on to her next Halloween. After a short time of catching up with her newfound PTSD, much of which sees her experiencing paranoia and extremely vivid nightmares, we get to watch as the confusion between dreams and reality, turn a very quiet Halloween night at home into something very bloody.
From a technical standpoint, these films are very well executed with some minor missteps throughout. For one, I loved the makeup work on the masked killer. We don't get to see many masked slashers these days and I really do love to see one that is well executed. The mask is creepy, very bright and almost alien looking. It definitely helps that the man behind the mask kept sticking his tongue through to creepily lick the bright red oversized lips. The blood and gore on his victims looked great, as well. The camera work, for the most part, is framed and composed nicely. There are a couple of shots that don't look great but they are minor and don't slow anything down or detract from the overall feel of the films. The score and sound work on both are phenomenal. Outside of the makeup effects, the score really is the most well thought out and produced part of these films and I was very impressed. It sounds beautiful and does an excellent job of building tension, throughout both of the films. Again, these films are by no means perfect but they are solid films and definitely worth watching.
It is no surprise to me that Girls Night has won many, many awards. It's a premise that we don't see enough of and one that makes for an excellent horror film. I've gone ahead and included Girls Night, in its entirety, here at the bottom of the review and I hope you'll take the time to catch Girls Night 2 if it is screening at a festival near you.