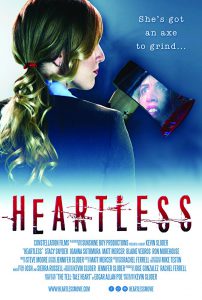 Synopsis
Based on Edgar Allan Poe's "The Tell-Tale Heart". An overlooked associate struggles to complete a corporate presentation as a horrific secret gnaws at her conscience.
From Writer and Director Kevin Sluder
While working on set, a conversation about the best of Edgar Allan Poe's works gave Kevin an idea. He'd long considered The Tell-Tale Heart as his favorite Poe work as it was not only macabre but also tragically human. "It speaks to the frailty of our nature and about guilt being an inescapable curse. On the way home from the shoot, this image got stuck in my head. It was this innocent, rising star exec staring at her reflection before a corporate presentation, having done something terrible the night before. I couldn't shake it," shares Kevin.

With Heartless, he wanted to make a film that paid homage to The Tell-Tale Heart and American Psycho with a troubled narrator that people could relate to, "I want audiences to be thrilled and truly horrified by what she does in this film. In the end, I hope I give audiences a fun, different, and thrilling new version of a classic Poe tale that they can enjoy again and again," Kevin states.
Cast and Crew
Stacy Snyder – "Shelby"
Joanna Sotomura – "Clare"
Matt Mercer – "Deano"
Blaine Vedros – "Brandt"
Ron Morehouse – "Tripp"
Melody Melendez – "The Admin"
Written and Directed By  Kevin Sluder
Producers – Jose Gonzalez, Rachel Ferrell
Executive Producers – Kevin and Jennifer Sluder
Cinematographer – Mike Testin
Production Designer – Rachel Ferrell
Editor – Matt Mercer
Associate Producers – Bryan Ricke, Melissa Vitello
Costume Designer – Jennifer Sluder
Composer – Steve Moore
Assistant Director – Melissa Vitello
Stunt Coordinator – Ross Scharphorn
Key Makeup – Emily Lowe
Assistant Makeup – Julie Curl
Special Makeup FX – Josh and Sierra Russell
Assistant Camera – Lili Soto
Gaffer – Dustin Supencheck
Key Grip/Swing Grip – Josh Bell/Bryan Ricke
Sound Mixer – Nicole Zwiren
Sound Editor – Shawn Duffy
Visual FX – Jason R Miller
Colorist – Brodie Alexander