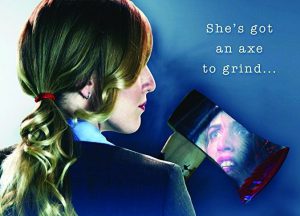 Today's review comes to us from writer and director Kevin Sluder and Sunshine Boy Productions. Their new film, Heartless is a retelling of the classic, "The Tell-Tale Heart" by Edgar Allan Poe. For those not up to speed on 175-year-old Gothic Literature, "The Tell-Tale Heart" is the story of an unnamed narrator trying to convince us, the reader, that he is completely sane. The only issue is that he is describing in detail a murder that he has recently committed. With Heartless, we are watching the narrator Shelby, played by Stacy Snyder with amazing viciousness in her eyes, as she loses control and goes from sales pitch to murder in 3 seconds flat. Right off the bat, this film is filled with blood-drenched gore, a bit of perfectly timed humor and full on bat s*** crazy. Kevin Sluder is another filmmaker that I have not had the opportunity to see prior to this review. Having heard good things about his work I was really excited to get my hands on this film and it did not disappoint in any way. From start to finish this film is brutal, bloody and an absolute blast.
Now, as per usual, it is time for my technical insights. This is another film that I am happy to report doesn't really have all that many issues. The makeup effects, in particular, are really well done. If there is one thing that stands out in this film it is absolutely their SFX work. From a blood spraying throat slash to a pen in the eye, all of the makeup effects are spot on. The color work looks excellent and accentuates the blood and gore throughout the film. Kevin Sluder does excellent work as both writer and director, in general, but it's his one liners that were my favorite moments in this film. The three male characters are all given very "bro" sounding names. "Deano", "Brandt", and "Tripp" are all written with suitable characteristics to fit their names. "Deano" is given, in my opinion, the best line in the film when he exclaims, "Shelby, that is completely inappropriate", after Shelby stabs his coworker in the eye. One aspect that I really appreciated, and is something that we don't often see in indie films, was the opening and closing credits song. Heartless opens and closes to "Farewell, Mona Lisa" by The Dillinger Escape Plan. The intensity of the music as Shelby walks in to start her presentation frames the upcoming madness beautifully. So, all in all, this was a really well made film that paid tribute to the source material in a really fun and brutal way. You can absolutely see the inspiration from the source material coming through this new interpretation.
I know that most people will see this film simply because it's fun, comes from a talented writer and director, and it delivers plenty of blood and gore. On the other hand, for those Gothic Literature fans that are seeing it for all those same reasons but also because it's a retelling of "The Tell-Tale Heart", I think you will be thoroughly pleased, come the end of this film. It is well written, directed, acted, and looks excellent. If you're a fan of Edgar Allan Poe's and happen to know the literature behind it, you'll have that much more fun watching it. If you find Heartless at a film festival or convention near you, I would encourage you to go see it! If you can't get out to watch it, please do yourself a favor and pick up a copy of the many Edgar Allan Poe collections that include "The Tell-Tale Heart". Either way, you'll be happy that you did.
9/10