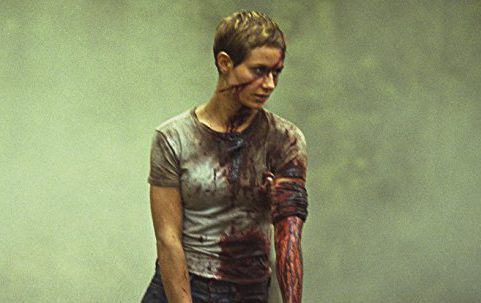 This week I got to watch one of my favorite horror movies of all times. If you haven't seen it, I'm not sure we can be friends. Except for Jenny from the block Martinelli, we all know she is a wuss. Anyway… High Tension was released in France on 18 June 2003 where it was distributed by EuropaCorp.
The film was shown at the 2003 Toronto International Film Festival during the Midnight Madness section. After screening at the festival, the film was purchased by Lionsgate Films for North American distribution.
The screening of High Tension at Midnight Madness made the section of the film festival an "unintentional bastion for New French Extremity" which still did not have a popular following. Following High Tension's release there, other films followed at the festival such as Calvaire in 2004, Sheitan (2006) and Frontier(s) and Inside (2007) and Martyrs in 2008.
On the negative this film needed to be dubbed in order to be released and appeal to North American audiences. They did a horrible job. On the positive Roger Ebert gave it one star due to it being, "Poor, nasty and brutish." Ummm thanks Roger put that's exactly what I'm looking for in a horror movie.
The plot is simple, Gal pals Marie and Alex are headed to the country house of Alex's parents for the weekend in order to do some cramming for school. After a friendly family dinner, everyone goes to bed … until a serial killer comes knocking, and drives off with Marie and Alex in his truck. From there, things just get stranger, and somehow more violent. For those who like their horror movies grisly and disturbing this will be a hit. For that I give it 4 out of 5 luchadors.