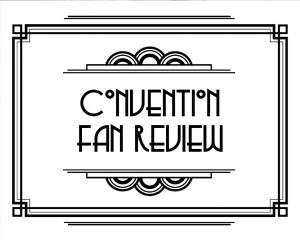 Horror Fan Ryan checked out Horror Hound Weekend in Cincinnati this past weekend and was nice enough to write us a quick review and share some great pics. Please note LLOYD KAUFMAN in the otherwise innocuous "I'm in line" pic!
Horror Hound in Cincinnati is always a great time. It seems to be getting bigger and bigger every year. My personal favorite things about it are the vendor areas and the after parties. They have a huge vendor area with outstanding vendors. The after parties are filled with great entertainment including bands, costume contests and karaoke.
As for dislikes i just have a few. Mainly that they have outgrown the convention hall. Especially the eating area. If you try to eat on Saturday, good luck finding a place to sit down. And if you try to sit down in a side hallway, they tell you to move.
Overall Horror Hound is a great convention that everyone should check out. Yes they have their problems, but most of them are minor. I would give it 5 out of 5 stars for fun, entertainment and plenty of places to stay near by.
If you go to a con and want to let folks know how it went, head over to the Convention Center and fill out the form. One person each month will win an Amazon Gift Card!