We all have movies that we watched as kids that we remembering loving back then. A lot of those movies we haven't seen in decades, even though we still talk about how great they were. On "I Liked That?," we revisit these movies to see how well they hold up.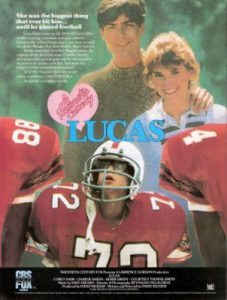 With college football's bowl season and the NFL playoffs in full swing, I thought I'd revisit one of my favorite football movies of all time: 1986's Lucas starring Corey Haim and a soon to be all-star cast including Winona Ryder, Charlie Sheen, Jeremy Piven, and Courtney Thorne-Smith. It also includes Kerri Green as Lucas's unrequited love interest, which works since she was all of our unrequited love interests from 1985-1986 before disappearing forever.
Lucas, played by Corey Haim, is a smart, awkward, and strange 14 year old that has skipped a few grades in school. He meets 16 year old Maggie, Kerri Green, right after she moved to town during the summer. Despite her being beautiful and 16 and him being a nerd and 14, they become friends by playing in swamps and wandering in the sewer to listen to classical music. Once school starts, we learn that despite Lucas's talk about how cool and popular he is, he's not, and gets picked on by the jocks. The one exception is Cappie (Charlie Sheen). He defends Lucas, and even though he has a girlfriend (Courtney Thorne-Smith), begins befriending Maggie over their mutual friendship of Lucas. Their attraction to each other is immediate and ridiculously intense (during one scene she teaches a shirtless Charlie Sheen how to use a washing machine during home ec while they're completely alone because schools just wanted kids to bone in the 80's), and they end up dating after his relationship with Courtney Thorne-Smith ends. Lucas, of course, joins the football team to try to win her affections, which doesn't work and almost gets him killed. Luckily, because this is a movie, the entire school decides Lucas is now great and he finally realizes that Winona Ryder, who had been practically throwing herself at him all year, is super cute and maybe he should go for her.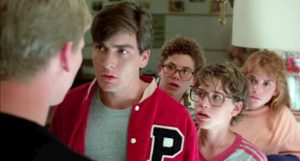 The obvious thing you'll have to get over in order to watch Lucas are the National Enquirer's allegations that Charlie Sheen raped Corey Haim on the set of Lucas. Even if you can get past that, there is still the problem that Charlie Sheen is human garbage. One redeeming quality is that despite this film being made in 1986 and about a teenager who is bullied, there is only one single homosexual slur, which might be some kind of record. Shockingly enough, none of the bullies use it despite that being the bully go to in the 80's… and 90's… and 70's… ok, probably forever. No, this single slur was used by Lucas, the film's hero, in a scene where he is mocked in the locker room shower for his penis size. Oh, the 1980's. It does have one of the worst 80's synth film scores, but it does have the greatest 80's slow clap and the greatest PG-13 f-bomb of all time, so it is definitely worth revisiting. If you can get by Charlie Sheen.