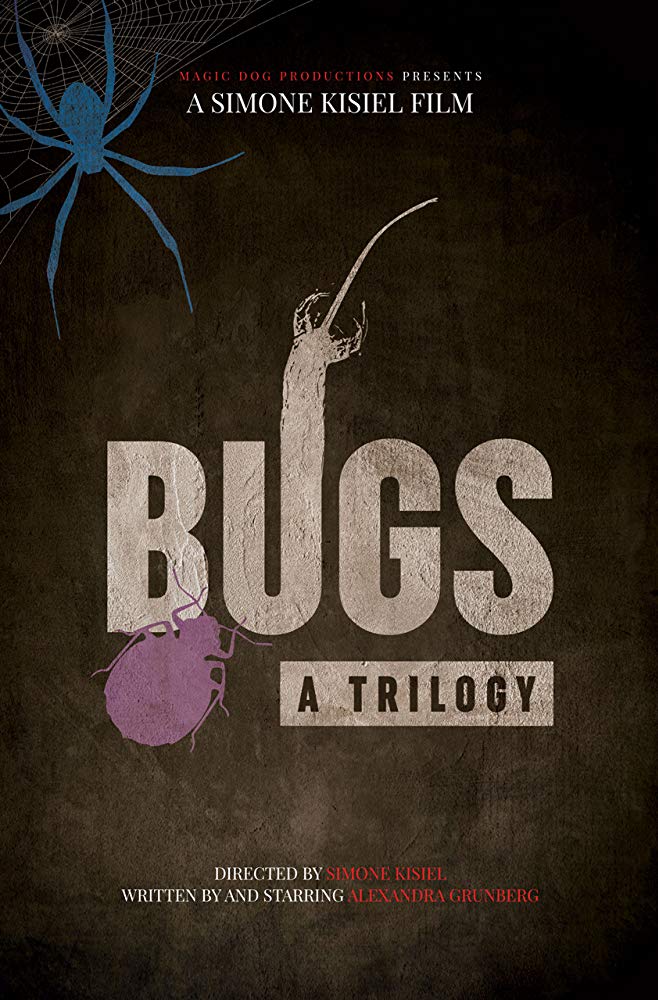 It was just over a week before the Women in Horror Film Festival starts that I was given the opportunity to interview the directors of the Best Feature Film nominees. These are, obviously, quite talented filmmakers that each bring their own distinct storytelling style to the screen and I am incredibly excited to be able to bring you some insight into their filmmaking process. So, without further ado, here is my interview with Simone Kisiel, director of BUGS: A Trilogy, screening later this week at the Women in Horror Film Festival!
-Simone, tell us a bit about yourself.
I was originally an actor; I graduated from NYU Tisch in 2011. Within a matter of months, it became clear to me that I would be happier behind the camera than in front of it. For one thing, I much prefer to have control over my career and not be held hostage to other people's needs. Not to mention that the roles for women left a lot to be desired. While interning at Stonestreet Studios, the film, and TV studio at NYU, I learned how to direct, produce and edit. By 2014 I felt ready to strike out on my own and I founded Magic Dog Productions whose mission is to employ and empower women and minorities in front of and behind the camera.
-Who or what inspired you to get into indie filmmaking?
I've always thought of art, and filmmaking in particular, as a vehicle by which social change can be achieved, or at the very least a vehicle by which we can spark critical thought in our audience. That mission did not change when I went from being an actor to an indie filmmaker. I seek to tell stories that will change our society for the better; that will cause our audience to see things and people in a light they haven't considered before. It's an incredibly powerful tool. It should also be noted that there is nothing I know of that is more fun than making indie films!
-Why choose the horror genre, specifically?
Horror, like comedy, is a genre where the audience can be made to be vulnerable. When our audience is laughing, or cringing in fear, filled with unease, they become open to new ideas. Their guard is down, they are receptive, and they are primed to accept new images, concepts, and thoughts. I create comedic content as well, but horror is the genre that to me can really burrow its way under your skin and haunt you late at night; maybe even force you to consider things you'd never have considered otherwise.
-So far, only one film I've directed has been sent off to a festival and I wasn't told about it beforehand. So, I definitely missed the experience of sending a film off and waiting for those responses. What does it actually feel like to send your films out and have to wait for that acceptance or rejection response?
I find submitting the films extremely nerve-wracking. It's almost like gambling on a bad bet. There are so many indie films being made, amazing indie films, and only so many spaces. And I know that films can do incredibly well with audiences, especially horror films, even if they don't do well on the festival circuit, but it such a great feeling to have that affirmation when you see "Accepted." And when the rejections outnumber the acceptances, you just have to remember that you only need one person to give you a chance, and it can change everything.
-As we are experiencing so much upheaval and turmoil in the film industry, specifically with the Me Too movement and the changes that it's bringing about in our industry, where do you see the focus on the Women in Horror movement going from here?
I see the focus on Women in Horror taking on a more critical edge. I have felt like horror has always masqueraded as championing women, especially the slasher genre with its almost constant female lead, but that the presence of women in classic horror films did not always equate to a feminist film, often quite the opposite. I think when considering the #MeToo movement, we have to consider the ways in which we idolize classic films that were built on harmful stereotypes and sexual expectations, and strive to do more with the genre when we, as female horror filmmakers, work within similar tropes.
-Filmmaker to filmmaker, what do you find is the most difficult part of the job? From both a technical and emotional or mental viewpoint.
This is an easy one – the funding! I have access to the most talented actors imaginable, the best, most professional crew, great shooting spaces, excellent equipment, etc. Everything that I need to make great narrative fiction… except the cash. However, I think anyone who is making indie content is in this same boat funding wise and I'm not sure that there is really a trick to it. I love a technical challenge on set or in producing, and the rest is just filmmaking, all of which I love! The real sticking point is that funding opportunities are largely limited to grants and individuals who want to see a certain piece made.
-Now that we're a week away from getting to see BUGS: A Trilogy, which I am really excited for, what other projects do you have in the works?
Magic Dog Productions is currently working on a new short film called "Heavy the Heart." It is inspired by Edgar Allan Poe's classic The Tell-Tale Heart with a twist of moral ambiguity in a "what would you have done?" type of scenario. It's written by Alexandra Grunberg, the screenwriter of "BUGS: A Trilogy," and features some of the same actors, such as Julia Beach and Marissa Carpio. We're all very excited to start post-production and then send it off on the festival circuit!
-Again, with everything that's been going on in this industry, do you find that being a woman has been beneficial to your career or has it just created that much more difficulties?
I think there are ways being a woman in the film industry has been beneficial, and ways it has created more difficulties. The benefits have been more obvious to pinpoint, such as the amazing communities of women creators we connect with at festivals like the Women in Horror Film Festival and even on Twitter. But there's always the reality of being a woman in a male run industry when you're trying to make unapologetically female horror narratives that, behind the scenes, you are being dismissed. I'm not going to name names, but it's especially frustrating to see work that I'm proud of being turned away from festivals that instead choose to promote and award exceptionally sexist and degrading horror films.
-As a woman working in the horror industry, and filmmaking in general, what would you like to tell women looking to get into the industry, at any level, to help them take those steps?
Don't get in your own way. Don't self-reject. Don't talk yourself out of an opportunity. You'll have enough pushback from industry professionals, and even your friends and family. You have to be your biggest fan. You have to be your own enthusiastic promoter. And just do it, commit to your project, begin writing it/filming it/casting it, because, as Stephen King says, "The scariest moment is always just before you start."
-And lastly, what would you like to tell our audience about BUGS: A Trilogy, to get them that much more excited for next week?
"BUGS: A Trilogy" is, I hope, an inspiration for what horror can be. It confronts social issues head-on, definitely within the world of horror, but not in a way that can be missed or misinterpreted. I have always loved horror because I feel like the genre gives filmmakers a way to present social issues that may otherwise make some audience members feel alienated within a framework that is more palatable or acceptable, while still getting its point across. But I think it's time for women/POC/LGBT filmmakers to just present the stories they want to present in a way that is unashamedly us, without trying to cater to a white cis-male audience. We deserve an opportunity to tell our stories. And we deserve to expect that people will listen.
Please enjoy the trailer for BUGS: A Trilogy brought to you by Magic Dog Pictures and director Simone Kisiel!