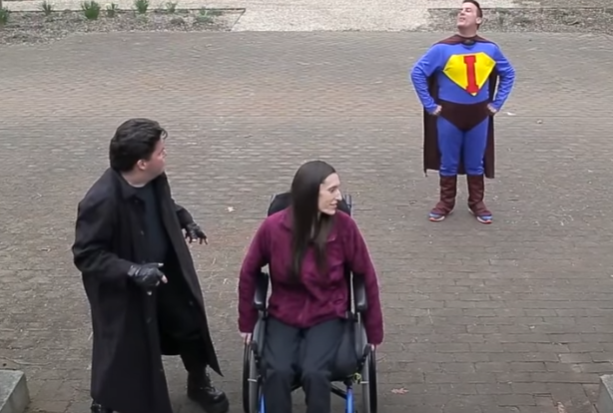 Regular readers will know Jennifer Valdes from her Women in Horror cards but now she is bringing us something that is not only amazing, but also important.  Her latest film, Invincible is part of the Easterseals Disability Film Challenge. Here is the synopsis from the creator:
Sam is followed by the evil supervillain, Mr. Invisible. He is a discouraging force who tells her that she can't make it to the wheelchair ramp. With help of the superhero, Mr. Invincible, Sam is able to remain positive, overcome her fears and reach her destination.

We are not invisible, we are invincible!
Take a look!
Jennifer, who wrote, directed, produce, and edited the movie, and who suffers from Complex Regional Pain Syndrome, Bi-polar disorder and PTSD, had this to say.
We are so excited to participate in the 2022 Easterseals Disability Film Challenge! Our talented and creative team is made up of people with and without disabilities, in front of and behind the camera.  We had a wonderful time working with a diverse group of actors and crew. We are passionate about promoting a positive message and creating additional opportunities for disabled creatives in the media field.

We understand the importance of raising awareness for the disabled community through our filmmaking work.
We at the gallery applaud Jennifer because while we love horror, we are not fans of real people going through horrible things.  I hope this film makes you think a little bit and you give her some love!
No tags for this post.