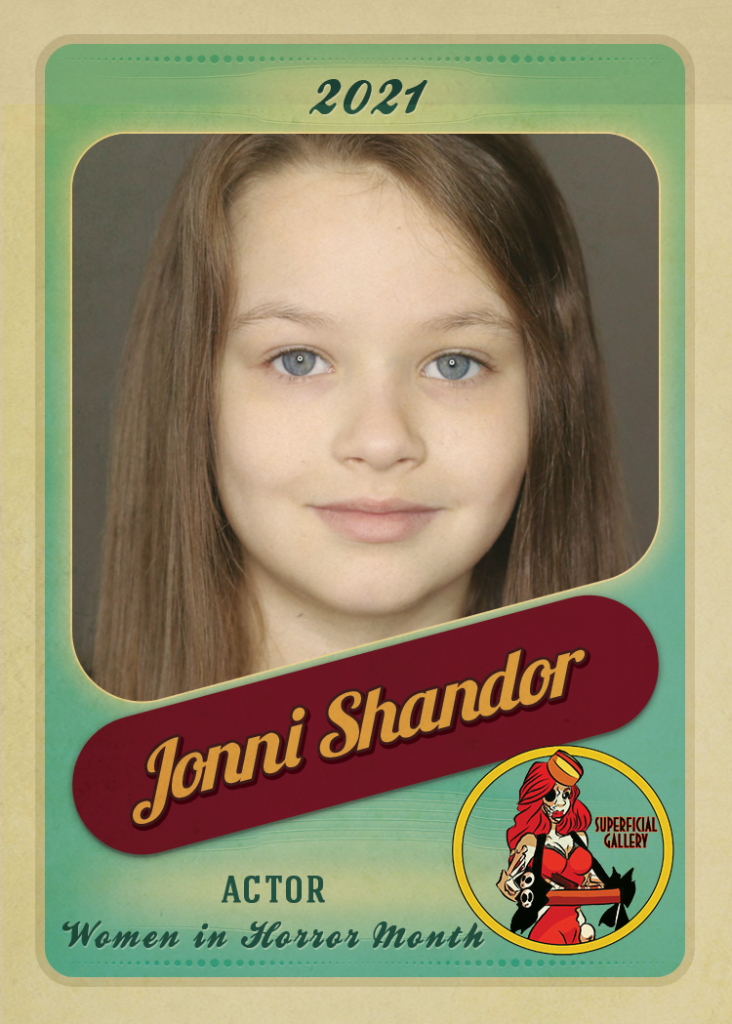 Jonni Shandor is a veteran to the Gallery WIHM event. She is a Actor, Director, Writer.
How have you fared during the pandemic?
I had many films postponed so I started writing my own films and had actors film their own parts and I helped Mommy edit them so I have created 2 films of my own and have been in a pandemic film where I helped co-write. I also spent many days a week training and learning how to do self-tape auditions, I have been in several Zoom classes, workshops, private coaching, just trying to best out of this situation.
What's been keeping you busy?
See above LOL
I am in the middle of writing my first feature film though and that is going really well. I wrote and directed 2 film shorts for film festivals
Also, I started filming my own web series called Scary Haggis. This is a one-woman variety comedy horror show that is aimed at kids and grown-ups but isn't too scary that it'll give them nightmares. It's the right type of scary and it's very funny. I am releasing the first season biweekly starting in women in horror month and I have a special Christmas episode that has already been released. The first season consists of 4 -30 minute episodes and an hour and 20 minutes long Christmas special
What was your favorite piece of new horror media from the last year?
I really enjoyed the new Blumhouse movie Freaky. I am the biggest Blumhouse Productions fan and I go to see every one of them. It's tough getting to a theater that shows some things so we rent them at home if we have to and The Hunt was also very good. We rented it for a 24-hour rental and we watched it 3 times. I really loved Freaky though and a new series I have been getting into is the Final Destination movies and the Deep Blue Sea movies. I watch those with my dad
What are you looking forward to most in the horror community for 2021?
I'm looking forward to filming a few films I will be in this year. I have a part in Chris Gastrot's latest horror piece called Live, Laugh, Die and I should be filming Oh My Darling this year as well. I am really looking forward to some of my movies coming out, The Embalmers, and two Christmas horror movies I had a lot of fun filming, Vampire Santa and He Knows
What keeps from throwing in the towel when things get tough?
I love to read and play outside and I love running and doing yoga. These are the things I do when things get tough or I'm getting sad because I'm of the pandemic. I love reading this series called the Warriors. It's about cat clans and there are so many books and they help take me away and forget about things for awhile
What projects do you have coming up?
Well as I said I have the movie "The Embalmers" coming out written by Diane Fraker and Rebecca Rinehart and then I'm filming Parallels written by Daniel Goad and I have been looking forward to filming that movie for a long time. And who doesn't love Christmas Horror? I have two of those coming out this year. I have been having a really good time filming on different sets.
Important Links for Jonni Shandor