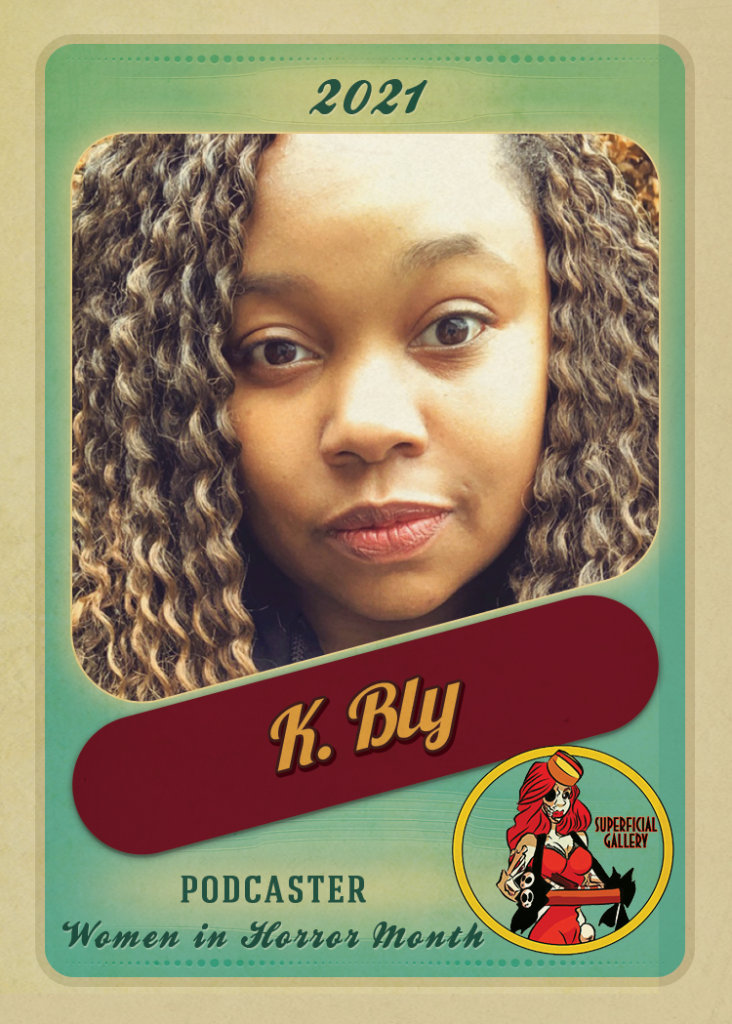 K. Bly (AKA The Lil Horror Boss) is a veteran to the Gallery WIHM event. She is a Podcast co-host, Co-Creator and screenwriter for upcoming horror anthology, horror sci-fi comic book writer.
How have you fared during the pandemic?
Staying busy creating. We were able to get a lot of work done with our podcast virtually.
What's been keeping you busy?
-Writing
-Recording and editing podcasts
-Working on releasing film projects
What was your favorite piece of new horror media from the last year?
I have a few:
Lovecraft Country
The Host
Ghost Brothers (not new)
The Invisible Man
Run
His House
Ready or Not (not new)
and I watched The Following for the first time.
What are you looking forward to most in the horror community for 2021?
I am ready to watch the 6 bonus episodes of The Walking Dead season 10. I have been a fan of the show since the beginning.
Also I have been waiting on the Candyman remake since last year, so I am ready to watch that one!
Oh, and of course, collaborating with other people in the horror community.
What keeps from throwing in the towel when things get tough?
My support system! I have a great network of friends and accountability partners. I also have the support of my 5th Wall team! We keep each other motivated and inspired.
What projects do you have coming up?
I am looking forward to season 3 of my podcast "Horror & Hooch" and releasing the pilot episode of my horror anthology "The 5th Column."
We are also working on a short film.
Important Links for K. Bly (AKA The Lil Horror Boss)