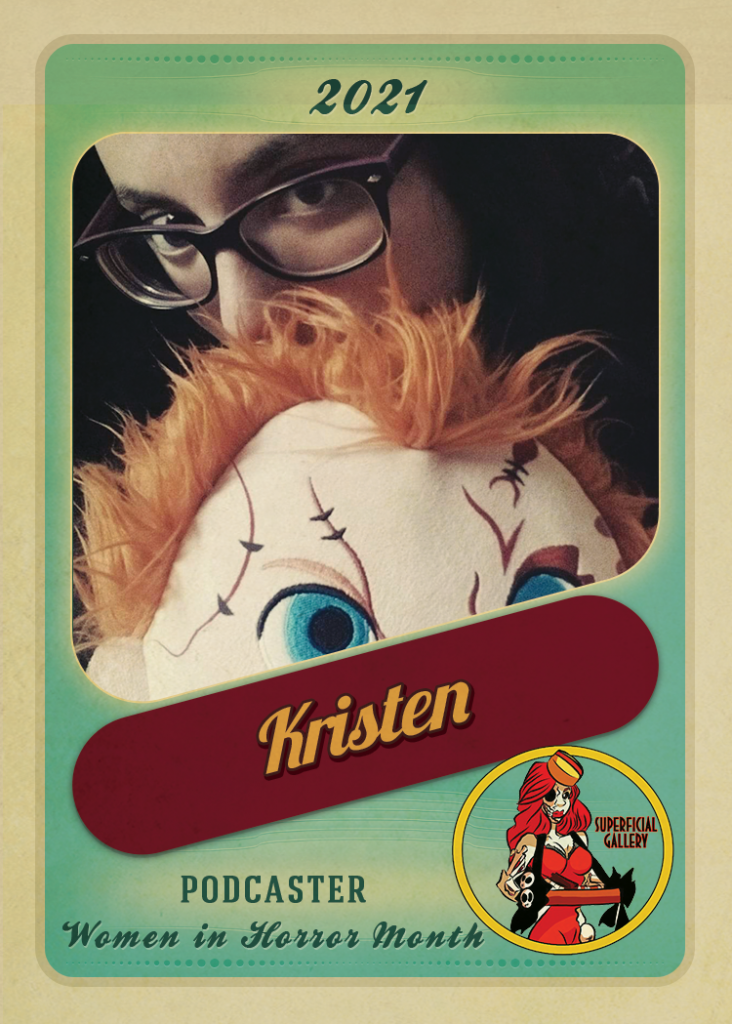 Kristen is a rookie to the Gallery WIHM event. She is a Podcaster! Gamer/Streamer!.
How have you fared during the pandemic?
Not too bad! Kept the podcast going even from different homes. I have to admit mentally it got rough for a while, BUT I'm back and ready to really start working harder on my goals.
What's been keeping you busy?
The podcast, horror movies, video games, and the streaming. I have been wanting to stream for about 8 years so now starting this is huge for me.
What was your favorite piece of new horror media from the last year?
DEFF HOST. That movie freaked me out the first time I saw it. It holds a special place in my heart for sure and I think it is one of the best things to come out in horror .
What are you looking forward to most in the horror community for 2021?
Meeting more amazing people in the community. Getting closer to the ones I already know. Building better relationships with everyone. Really starting to amp up my streaming and having more horror movie nights with the community on my Discord. AND OF COURSE all the movies we missed out on last year.
What keeps from throwing in the towel when things get tough?
Horror movies, games, and the horror fam. Man the horror fam is such a huge part of my life. Talk about some of the best people. I appreciate them so much. If I am having a bad day they are always there. Horror movies and games are always there. Horror is truly my calm in a storm.
What projects do you have coming up?
The podcast will be getting a website this year. We will start selling merch. SUPER excited about that. I am hoping to really get a set schedule for streaming on Twitch. And of course really get a set schedule for the Discord movie nights as well. The pandemic may still be happening but that won't stop us from having a great time!
Important Links for Kristen
Podcast Instagram – https://www.instagram.com/dontfuckwiththeoriginal
ChuckysSideChick LinkTree to everything – https://linktr.ee/ChuckysSideChick