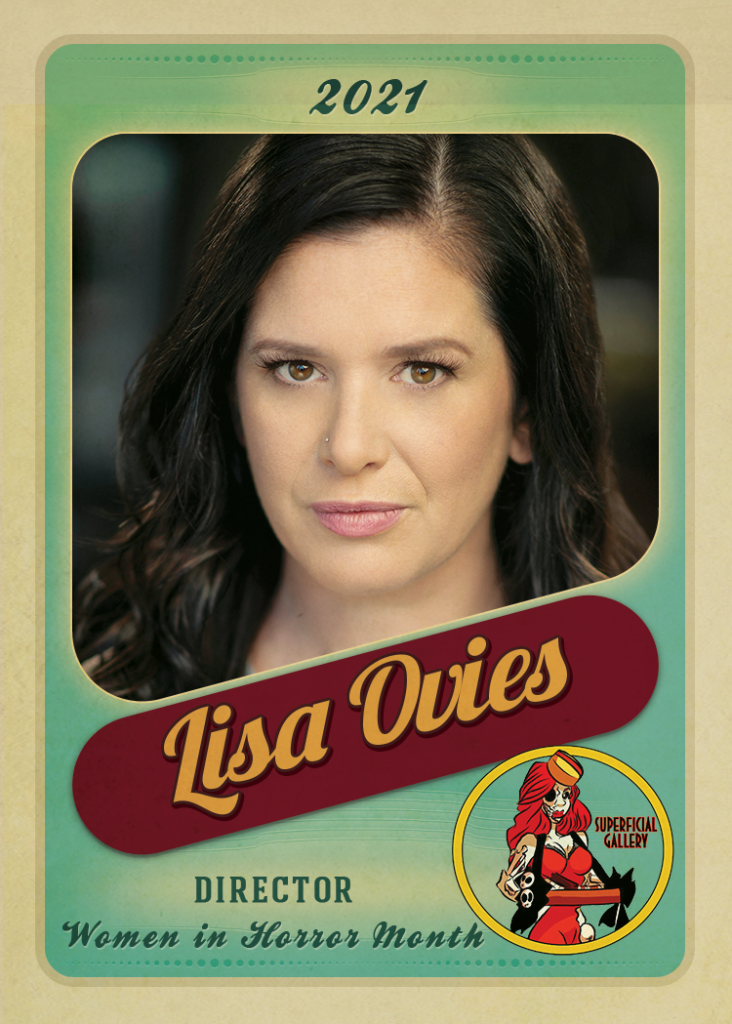 Lisa Ovies is a veteran to the Gallery WIHM event. She is a Director.
How have you fared during the pandemic?
The first month or so was great! I was super motivated, we had sold my first feature and I launched #Project Quarantine in April. I broke down the script for Tommy Wiseau's film 'The Room' and then cast 45 directors from 7 countries to each direct a scene under Quarantine rules: Filmed on a phone, with only who and what they lived with. We had a blast working with everyone and then a few months into the pandemic, things shifted, and I honestly had a pretty rough go as I am sure nearly every one did. I would say though, since sadly losing a dear friend in December, I have had a real wake up and started living each day to the fullest again and really working on my own happiness and health and thankfully things have really turned around. I have been taking time to read, meditate, study and work on me. To be honest the last few months have been truly wonderful.
What's been keeping you busy?
In early Spring 2020 I was contacted by a production company (Landed Entertainment) out of Toronto to direct a segment of a horror anthology. We got some solid prep in, one day of filming in Toronto that I was able to remote direct from Vancouver, and then we had to pause as restrictions tightened. I got to fully design my first creature which I really enjoyed as I always love practical effects and the producers really allowed me to put my stamp and vision on this film. Finally, in the first two weeks of January, we were able to finish filming. It was all done under strict COVID rules and I remote directed actors in Toronto, LA and Vancouver and worked with our producers and my DP Nic on zoom while he remote ran 3 go pro's and our actors each ran two cameras, one to film and one to connect to our zoom. It was insane, but we pulled it off and it was fantastic. Right now I am in post on it reunited with most of the sound team from Puppet Killer so it has been really great to work with them all again, they are so talented and wonderful.
What was your favorite piece of new horror media from the last year?
Host. Hands down. I know other great things came out in 2020 but that film was what I needed in so many ways. I was in a dark funk feeling like I was incapable of doing anything as a filmmaker during COVID and that all the momentum I had built in my career was fizzling out and suddenly I saw a fucking awesome horror shot all in quarantine and done so damn well! It lit a HUGE fire under me and I haven't looked back since. I almost immediately contacted a dear friend and writer Avi in New York and started work on a new script. Then we got the offer to make 'Witches Midnight' and we put our focus there to really learn how to pull off remote directing. Now we are back working to see if we can pull off the original film in a similar manner.
What are you looking forward to most in the horror community for 
2021

?
Well, I would be lying if I didn't say the release of 'Puppet Killer' My directorial feature debut. We had an amazing festival run (over 75 nominations and over 30 wins) but it was cut pretty short with us only physically being able to participle for 5 months and then having to pull it because of COVID. We release this summer and I can't wait!
Second would be that so many amazing humans have finally decided to move Women in Horror Month to March (or whenever they want to celebrate) and I am able to participate in it again!
I am also stoked to see Gigi Saul Guerrero get her hands all over Blumhouse once more. SO many wonderful creatives had to pause and I am just excited to celebrate them all being able to create again.
What keeps you from throwing in the towel when things get tough?
I think for me this is a hard question to answer, particularly after such a hard year for so many as people sometimes look to another story and journey and compare that to themselves and it can be a negative if theirs wasn't as "easy" or "successful" so I will start with saying to everyone reading this, you are here and you made it through 2020 so fuck ya! Baby steps and be kind to yourself.
For me specifically, it has been a network of amazing friends that know my struggles and see me hit my lows and refuse to let me give up or give in. I would not be here without them.. They got me in trauma therapy when I was no longer able to handle the challenges coming my way and they have never stopped checking in on me to make sure I am not trying to face life and all it throws at me alone. My film team, who are also my closest friends whom I consider family, also keep me going. They believe in me as a filmmaker and support me with the creative and talented ways they make our projects better than I ever could have made them on my own.
Having a small group of people that genuinely want to see you succeed, and who are passionate and motivated in their own right, has changed my life. It took me some time to find this group, but I will forever cherish them with all my heart.
Last I would say learning humility and asking for help. That was not easy but once I learned to do that the world and its struggles have felt like a lighter burden to carry because I am never carrying it all on my own.
What projects do you have coming up?
Our film 'Puppet Killer' is releasing this summer which I am over the moon about.
'Witches Midnight' coming Fall 2021 as a stand alone short and as a part of a larger anthology.
'The Quarantine Room' coming Fall 2021 and a few other features on my plate that I can't wait to share!
Important Links for Lisa Ovies