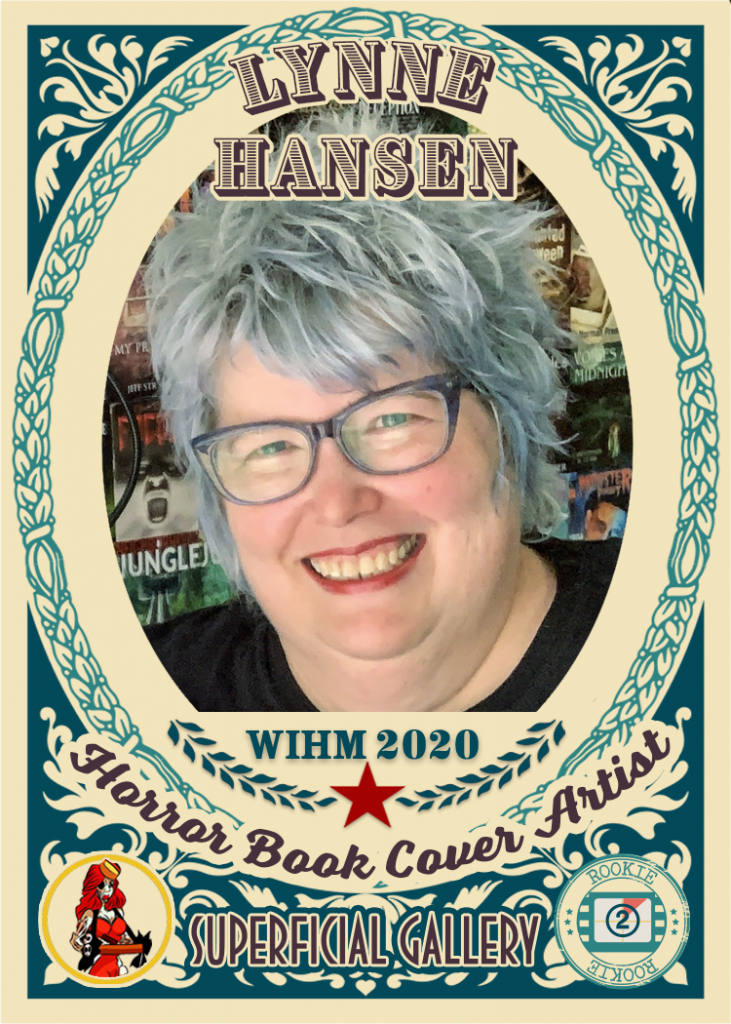 Lynne Hansen is a rookie to the Gallery WIHM event. She is a Horror Book Cover Artist.
What motivates you to do what you do?
I have the absolute best job in the world! I get to read amazing books and then create art that leads new readers to those books. It gives me great joy.
Who is your favorite woman who does what you do?
Jill Bauman. She's created covers for some of horror's most iconic books, and I have always loved how she's able to succinctly capture the essence of a book with memorable characters who really just pop off the cover.
If you had one wish for women in your space in 2020, what would it be?
If I could grant one wish for women horror artists, it would be to give each one the confidence to embrace her dark side and just GO FOR IT. If it's inside of you, it's time to unleash it on the world!
Share a practical tip for a woman who wants to do what you do.
Book cover art isn't just about making beautiful art, thought that's part of it. It's about telling a story in a single frame. The goal of a good book cover is first and foremost to get readers to buy the book. The best book cover artists can balance commerce and creativity to create something really special.
Inspire someone who is not where they want to be in the industry yet.
Create art that speaks to your heart, regardless of what the trend of the moment is. When you are genuine and create with YOUR voice, the work will follow.
I've been a book cover artist for 10 years now, and when I was just starting out, I would do whatever project hit my inbox–from spicy romance to sci-fi to young adult. But horror was always my first love, so about a year and a half ago, I decided to remove everything from my portfolio that wasn't horror and start turning away projects that I didn't absolutely love. It could have been disastrous for a working freelancer. But it wasn't.
When I focused on sharing my true voice with the world, my commissions skyrocketed. Now I get to create exactly what I want, for exactly WHO I want, all because I decided I was only going to do what I loved.
What scares you?
Betrayal and duplicity. It's probably why zombies are my favorite monsters. To me, there couldn't be anything worse than to see someone who looks like your husband or sister or best friend but isn't.
What projects do you have coming up?
2020 will see me releasing a boutique clothing line featuring my art, and I'll also be launching an ongoing video series where I share my process along with advice on creating kick-ass book covers. And then of course there are the 42 book cover commissions I currently have in my queue!
Important Links for Lynne Hansen
If people want to see more of my work or commission me, they can find my portfolio website here: http://www.LynneHansenArt.com