All great monsters share certain traits in common. They're all blood thirsty. They all revel in their own evil and malfeasance. And they're always fun to see on screen. Malvolia, Queen of Screams is no exception. A horror hostess keeping that proud tradition alive with her Youtube series featuring original shorts from filmmakers all over the world. With season two and her Halloween Special fast approaching, I got a chance to talk to the queen herself about her transition from bloodsick ghoul to Hollywood vamp.
For those who aren't familiar with your work, who is Malvolia: The Queen of Screams?
I was named after the Italian Vampiress, Malvolia in… Well, I never divulge my age… Being my name means "Ill-Will", I lived the life of every macabre scholar. At first, life was exciting and new! An adventure every night, especially when the moon was full. But time, after time, after time with the same ol' thing gets boring. One evening I caught a late night show, something I never do since I usually hunt at night and sleep during the day, and there was this vivacious vixen hosting horror movies. I thought, "Who else would be perfect for that kind of job?!" So, I left the old country and started anew! Hello Hollywood!
A malevolent, bloodthirsty creature feeding on the agony of humans, did L.A. feel like a culture shock when you arrived or was it home sweet hell?
It has been a terror raising ride! It was a little depressing trading in rolling hills for smog and traffic. But, the population is greater here, so, I can grab a snack whenever I'd like! Absolutely, "Home Sweet Hell"…
How did you happen to find your manservant, Victor?
How every great horror story begins: Craigslist. Luckily (or unfortunately…), he was the only one to apply! I guess it is hard to find good help these days! Anyway, he was young, displeasing, and looked mighty tasty… Little did I know, he would grow on me and I'd let him stick around, as opposed to devouring him that very night. Though, I have to admit, it is fun to torment and kill him every now and then…
What enticed you about horror hosting?

Like I said… I caught that video vixen late one night and thought I would be the perfect asset to a newer generation: Youtube. It was a way to show creepy short films, but also show my menacing side! I've always wanted to be in front of the camera, so this is the best of both worlds! I've always liked making humans scream, in more ways than one…
In addition to your own YouTube channel and various appearances, you also appeared in the anthology film 10/31. Where or when can fans get a look at it?
Yes, yes! 10/31 changed my afterlife. Creator Rocky Gray said he needed a Horror Host for a segment. It was working alongside filmmakers that I've never had access to before. It was such a hit and new victims, er, audience members, started recognizing from different areas. My YouTube victims checked out the movie and 10/31 fans started to check out my Youtube channel. Two terrifying worlds coming together in one. We're in "talks" for some other terror filled ideas… Working with Rocky Gray is a nightmare come true! PLUS, it connected me to Actress/Director/Producer/Filmmaker Cindy Maples whose work I'll be showcasing in Season Two!
Is there a certain type of horror film you enjoy more than others?
Classic horror. A good haunted house or ghost story… Though, those seems to be a hit or miss. Slasher movies… All that screaming sends freezing cold shivers down my spine!
As well as films, you're also sharing some spooky tips for better living. Will there be more segments in the future to help fans live more like Malvolia?
Well, of course Darling! I need to give back to the world in some horrific way! Not only am I sharing menacing tips and tricks… I'm also sharing some stories with new characters! It'll be what Fairy Terror Tales are made of! I'm also developing a quick series for a horror site turned YouTube show. Though it seems like I have been in the shadows, a lot has been going on!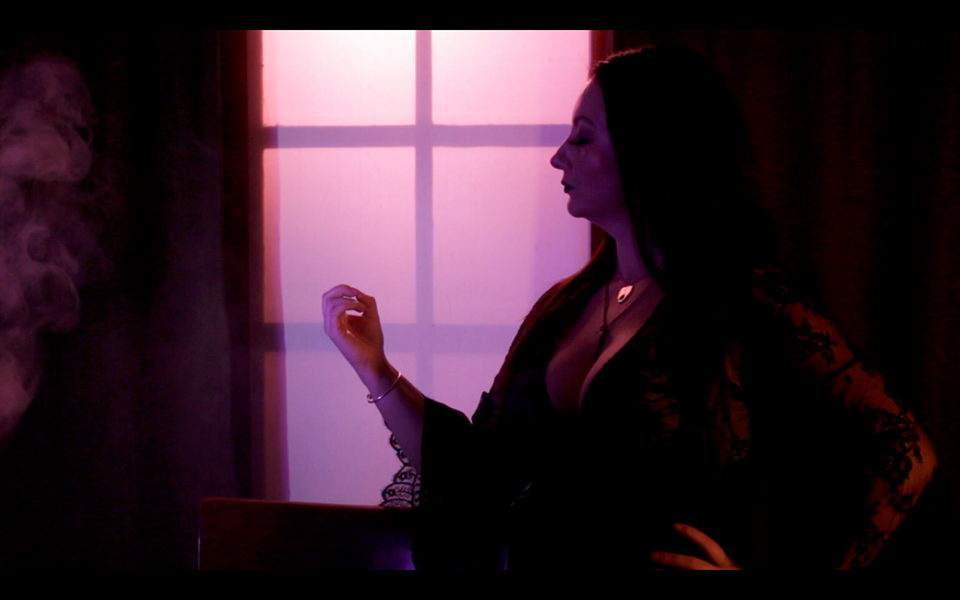 Will you be making any appearances at any fandom or horror events later this summer or fall?

How could I not? I love showing up and having humans just stare at me… It's so tantalizing. I know I need to expose myself more to these events and get my show out there… my deceased face out there! I mean, I literally bumped into John Kassir before feasting on lunch and grabbed his attention last Son of Monsterpalooza, which I have to admit, was so invigorating.
But to answer your question, yes! I am being hosted by iHorror.com's Ryan T. Cusick and we'll be walking around Son Of Monsterpalooza in Burbank in September. Also, I've brought on a new manager who will, severed fingers crossed, be getting me more appearances at cons around the country, so… Brace yoursleves! Malvolia may be coming to a city near you and I'm ready to create some chaos!

When will the next season of your show start filming?

We have already begun shooting! Many scary skits and terrifying short films to share! Look out around the middle to end of September! We also have an insane Halloween Special already planned!
Where can filmmakers send their submissions to Malvolia?
makemalvoliascream@gmail.com if you have the guts to share….
Well, you heard the lady. Make Malvolia scream. Send her your submissions today and be sure to subscribe to her Youtube channel.