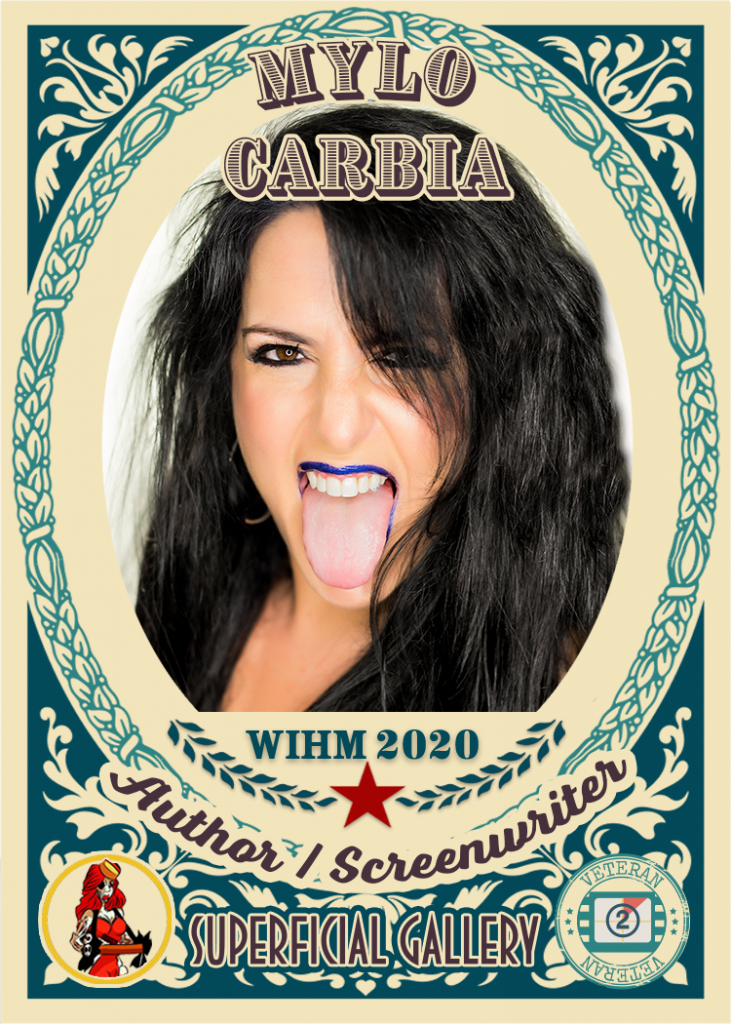 Mylo Carbia, "The Queen of Horror" is a veteran to the Gallery WIHM event. She is a #1 Bestselling Author & Screenwriter.
What motivates you to do what you do?
I feel it is my purpose in life to be the one of the greatest storytellers of our time… To serve as the surrogate Mother of stories… To give birth to the powerful tales of "Good versus Evil" the Universe has chosen me to tell.
Who is your favorite woman who does what you do?
My literary hero is Agatha Christie. My work is much darker than hers, but we share a goal of creating entertaining, complex mysteries within our terrifying stories.
If you had one wish for women in your space in 2020, what would it be?
To get to a point where women are so ubiquitous in our industry, that we no longer notice the gender of the creator.
Share a practical tip for a woman who wants to do what you do.
Perseverance, execution and persistence trump talent every single day of the week. Invest in books and programs to remove self-doubt, and you will automatically become a better writer.
Inspire someone who is not where they want to be in the industry yet.
Writing is one of the few "age agnostic" industries. Many writers reach success later in life, so it's not too late to hit it big! Just keep improving your work, keep moving forward, and success is practically inevitable.
What scares you?
My biggest fear in life is not achieving at least 95% of my full potential. I have so many more amazing books and movies to write, the stories are literally just floating in my head, waiting to be born. For this reason, I pray every day for the health, time and circumstances to be able to write them all before I die. Anything less, would be unacceptable.
What projects do you have coming up?
My #1 bestselling novels, THE RAPING OF AVA DESANTIS and VIOLETS ARE RED will be out in Audiobook format on Audible May 2020! Best part is, I narrated both books myself, so if you want to hear me portray 86 different characters with 17 different accents, then check out Audible this Spring.
I also have my first science-fiction, horror-thriller novel Z.O.O. finally coming out late 2020, and two more novels coming in 2021, so stay tuned! There's so much more to come!
Important Links for Mylo Carbia, "The Queen of Horror"