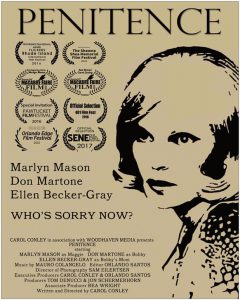 I hope you'll forgive me, dear readers, for being a little late with this review. Some films are a little more difficult to process. And while this film is not a horror film, per se, it does present some horrifying moments. Let me be very clear, Penitence really is phenomenal but that doesn't make it any less unsettling or tragic. Carol Conley has not shied away from a difficult subject matter and the film never once wavers in its message. In fact, as I'm writing this, it occurs to me that it's really not often that you see a film that tackles such a difficult subject and I can't remember the last one that I saw. In this case, we're seeing the penitence paid by a child molester and the inevitable penitence of her victim, once he comes to exact his retribution. This is writer and director, Carol Conley's first solo effort and she absolutely knocks it out of the park. Here is the long and short of it from Conley, herself.
Starring veteran actress Marlyn Mason (Maggie) and newcomer Don Martone (Bobby), and written and directed by Carol Conley, PENITENCE examines the very thin line between love and hate. Recently released from a long prison sentence, Bobby confronts the dying woman whose actions in the past he believes put him on the path to ruin. Who's sorry now?
To answer the question that has been put forth with this, no one is sorry and that is part of why this film is so good.
There really is not much to discuss for technical issues with this film. There are only two locations, one of which you only see for a few seconds, and they are both shot well. With only three actors involved, one of which is also only onscreen for a few seconds, there isn't much that can go wrong. The cinematography looks fantastic. Sam Eilertsen has an excellent eye and composes each shot beautifully. The music and sound work are clean. Again, there's just not a lot to this film from a technical perspective. The main focus here is the direction and it is fantastic. The self-worship and unrepentance of "Maggie", played with unwavering vanity by Marlyn Mason, is absolutely horrifying knowing what she has done and who she is. Don Martone does a phenomenal job with "Bobby", the ex-con victim that is finally allowed his justice for who "Maggie" has made him. It takes a skilled director to bring out these kinds of performances and Conley very clearly has those skills. Every look, line, and movement is brought out of these characters to ensure you empathize with and pity them. Like I said, it is a tragically beautiful film.
I once worked a shoot that dealt with domestic violence issues. I had to ask an actress to realistically portray a look as if she'd been through abuse so much that she had come to be prepared for it. The barely perceivable flinch and frozen stare come across perfectly. It was the most difficult thing I've ever asked someone to do on one of my films. Carol Conley goes much farther with Penitence and I commend her for it. To tell a story of this nature, not once cutting away from the brutality of it, shows some serious directorial skills and speaks strongly to her strength as an artist. I both can and cannot wait to see what she does next. I cannot wait to see what kind of story she tells next and I can wait because I know it will be a cinematic punch to the gut.
Who knows, maybe I'll luck out next time and there will be puppies and kittens. I doubt it but one can hope.
No tags for this post.