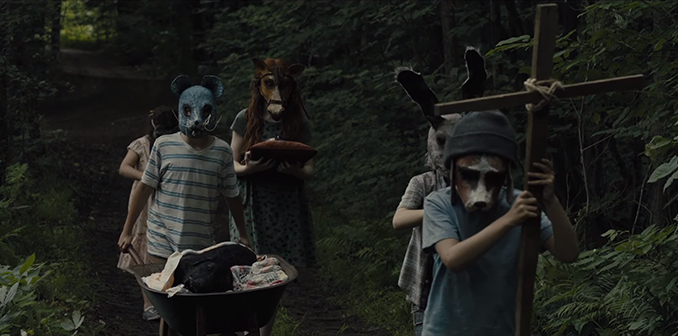 "Maybe it's just some crazy folktale, but there's something in the woods. Something that brings things back."
If you've read or seen any lick of Pet Sematary, you know that the woods in question do hold a certain power…and we got our first glimpse of those mysterious woods in the trailer for the Pet Sematary remake that dropped today.
The film, which stars Jason Clarke, Amy Seimetz, and John Lithgow, is based on Stephen King's 1983 story about a doctor who moves to a small town and discovers a pet burial ground in the woods near his new house, with horrific consequences that follow. In the trailer, we are served with a scare worthy of the King himself—a semi truck careening down the rural road by the family's new house in what is an very effective, jump-provoking omen for what's to come. As the trailer winds on, the bizarre nature of the new town gets worse, in flashes of children parading into the woods in animal masks (what is it with children in creepy masks right now? It happened on Castle Rock too!) to a shot of the doctor's nasty, seemingly decaying feet, to Lithgow's sinister croon that closes out the trailer:
"Sometimes dead is better."
Pet Sematary resurrects itself in theaters April 5th, 2019.
Check out the trailer below and let us know what you think in the comments! What was your favorite part? Will you be going to see the film in theaters?