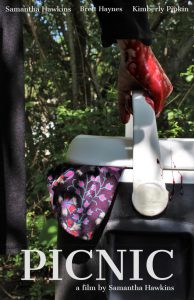 I first had the opportunity to meet Samantha Hawkins online, several months ago when we were both working on our short films for the Women in Horror Month 9 Massive Blood Drive PSA series. Her short film Party Prick, co-directed with her For Good Productions partner Kimberly Pipkin, was a wildly violent and funny film that had me eager to see what Hawkins and her team would be doing next. It wasn't long after that I was given the press release and materials for the announcement of Picnic, Hawkins' first solo writing and directing effort. The majority of her team plays double duty again with Hawkins playing lead actress and director, Kimberly Pipkin as director of photography and supporting actress, and Brett Haynes returning as the lead actor. It is completely clear that the For Good Productions team works well together and it's my genuine hope that they continue to do so for many years to come.
Picnic brings us the cautionary tale of what happens when one makes the mistake of betraying someone that loves you. Especially when that someone is a powerful witch. The film jumps back and forth, showing us the romance between our two leads and the preparation of a dark ritual after one betrays the other. As is so often the case, Haynes' character has allowed himself to stray from the love and commitment he has made to his fiance, played with the most stunning of death stares by Hawkins, as he's sneaking off with his side girl, known only to us as "Bae". Hawkins' witch, clearly having none of it, packs herself a "picnic" and adjourns to the forest. What follows is a delightfully bloody end for our philanderer, an excellent display of scream queening from Pipkin, and Hawkins' look of cruel satisfaction.
And now to dive into the technical aspects of the film. All in all, Picnic is quite good. There are definitely some pieces of the film that are a bit rough around the edges but they don't distract from the quality of the film, in any way. The audio is clean and the small amount of foley work there was sounds natural. Pipkin's camera work is executed well and her shots are composed nicely. Honestly, the addition of a good colorist would clean up those rough edges perfectly. Like I said previously, Hawkins' and her team work very well together and their films will only continue to get better as their team grows as artists and filmmakers.
I really enjoyed this film. It was short, sweet, and had just the right amount of vengeful blood. I have always been partial to a good revenge flick and Picnic does not disappoint. Samantha Hawkins' completely nails the wholesome fiance and icy witch. Her turn from sweet loving fiance to the pure evil smile of satisfaction as her bloody revenge is carried out is absolutely fantastic. Sadly, if you aren't at a festival you won't be able to catch Picnic yet. But, please, if you see this film at one of your local festivals get yourself to that screening. It is quite fun and I promise you will enjoy it.