<a style="background-color:black;color:white;text-decoration:none;padding:4px 6px;font-family:-apple-system, BlinkMacSystemFont, "San Francisco", "Helvetica Neue", Helvetica, Ubuntu, Roboto, Noto, "Segoe UI", Arial, sans-serif;font-size:12px;font-weight:bold;line-height:1.2;display:inline-block;border-radius:3px;" href="https://unsplash.com/@tiriizzz?utm_medium=referral&utm_campaign=photographer-credit&utm_content=creditBadge" target="_blank" rel="noopener noreferrer" title="Download free do whatever you want high-resolution photos from Tiago Dos Santos"><span style="display:inline-block;padding:2px 3px;"><svg xmlns="http://www.w3.org/2000/svg" style="height:12px;width:auto;position:relative;vertical-align:middle;top:-1px;fill:white;" viewBox="0 0 32 32"><title>unsplash-logo</title><path d="M20.8 18.1c0 2.7-2.2 4.8-4.8 4.8s-4.8-2.1-4.8-4.8c0-2.7 2.2-4.8 4.8-4.8 2.7.1 4.8 2.2 4.8 4.8zm11.2-7.4v14.9c0 2.3-1.9 4.3-4.3 4.3h-23.4c-2.4 0-4.3-1.9-4.3-4.3v-15c0-2.3 1.9-4.3 4.3-4.3h3.7l.8-2.3c.4-1.1 1.7-2 2.9-2h8.6c1.2 0 2.5.9 2.9 2l.8 2.4h3.7c2.4 0 4.3 1.9 4.3 4.3zm-8.6 7.5c0-4.1-3.3-7.5-7.5-7.5-4.1 0-7.5 3.4-7.5 7.5s3.3 7.5 7.5 7.5c4.2-.1 7.5-3.4 7.5-7.5z"></path></svg></span><span style="display:inline-block;padding:2px 3px;">Tiago Dos Santos</span></a>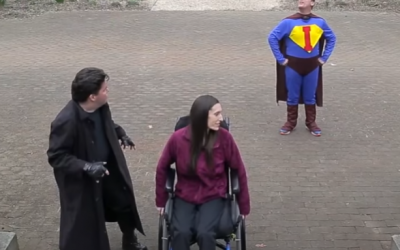 Regular readers will know Jennifer Valdes from her Women in Horror cards but now she is bringing us something that is not only amazing, but also important.  Her latest film, Invincible is part of the Easterseals Disability Film Challenge. Here is the synopsis from the...
read more
We Love Horror!
Horror is one of our favorite things here at the Gallery and we work hard to bring it all to you. We cover big budget movies, TV, books, video games, independent films, conventions, news, and offer our own opinions on what's happening in the industry. We are even going to start covering horror podcasts like our very own show, Strangeful Things!
No tags for this post.