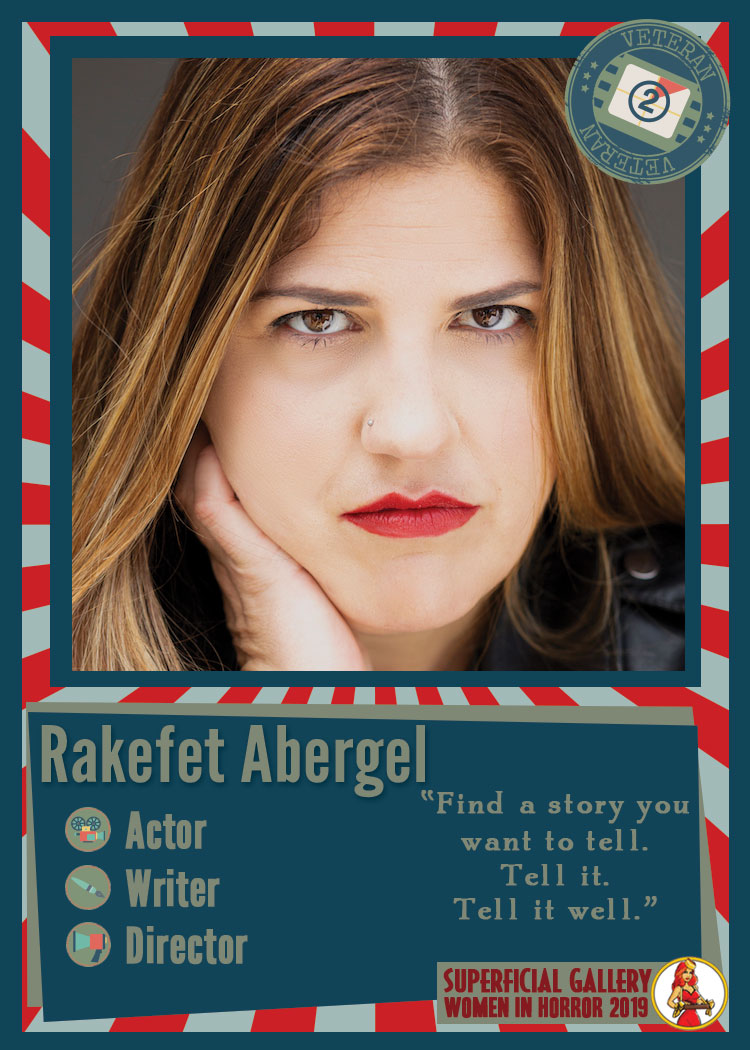 Our Conversation with Rakefet Abergel
Rakefet is an Actor, Writer, and Director, and is a veteran this year!
Which of your achievements to date are you most proud of?
Jax in Love was my first short film, horror or otherwise, and it played at over 50 festivals and won over 25 awards including 10 Best Actress awards for me, which was super exciting and cool. We have distribution on a new Women in Horror DVD Anthology by Meridian Releasing and on ShortsTV, as well as part of an anthology on the World of Death channel. You can see more here.
What's your favorite horror film and why?
My favorite horror film is probably Misery. Kathy Bates just killed it in that role. And it was the first time I saw someone star in a movie that maybe didn't fit the Hollywood beauty mold. It was inspiring for me! Leading ladies don't have to all look the same.
Who is your hero in the horror world and why?
My hero(es) in the horror world are the filmmakers that I've met while taking this journey. These people work tirelessly every day to make horror, support horror, create horror, promote horror, enjoy horror just because it's their passion. And I am completely inspired by all the people I've worked with and have yet to work with in this genre. There is always something new to learn. Also, fake blood is really messy.
Share a practical tip for a woman who wants to do what you do.
Find a story you want to tell. Tell it. Tell it well. Do whatever it takes. Don't back down. Don't give up. And tell anyone who tells you that you can't do it? That you'll see them at the movies.
Inspire someone who is not where they want to be in the industry yet.
Lady Gaga kind of said it all at the Oscars the other night, but this industry thrives on passion and hard work. You gotta have both. If you're doing it for the money, good lord find another path! LOL. If you're really passionate about it but don't want to do the hard work, you probably won't get far either. So have passion. Work hard. Work harder than anyone else. The ones who succeed in this business are the ones who never gave up. As they say, fall down seven times, stand up eight.
Scare the crap out of us with something you have done or plan on doing!
I'm co-designing a monster for my new film right now and actually, that's been pretty scary!
What projects do you have coming up?
I'm beyond scared and excited to be embarking on this filmmaking journey again! My next project is a short horror film called BOO. It's being co produced by my company, Cyclamen Films (which also did Jax), in association with VKTRY Creative, a company founded by a diverse female team.
The screenplay for BOO, written by me, was an official selection this year at multiple film festivals including Upstate NY Horror Film Festival, Georgia Shorts Film Festival, Horror Films In Hotlanta, Bloodstained Indie Film Festival, and Vancouver Bad Ass Film Festival.
2018 Boo Screenplay Nominations: Nightmares Film Festival Short Screenplay Finalist, Oregon Scream Week Best Horror Short Screenplay Nominee, Independent Horror Movie Awards Best Short Script Nominee, and Diabolical Horror Film Festival Best Short Script Nominee.
2018 Boo Screenplay Awards: Boobs and Blood Film Festival for Best Vampire Short Screenplay, Women in Horror Film Festival for Honorable Mention Best Short Screenplay, Queen Palm International Film Festival Gold Award for Best Dialogue and Antic Horror International Short Film Screenplay Contest for 2nd Runner Up Best Short Screenplay.
Our cast is pretty incredible and includes Josh Kelly (UnREAL), Parisa Fitz-Henley (Midnight, Texas), Laura Wiggins (Shameless), Michael Villar (Skin – 2019 Oscar nominated short film), and ME! I will also be directing. And our executive producer is Shawn Christian of Days of Our Lives fame!
We are currently crowdfunding and still need pledges! If you're strapped for cash, even just going to our link and clicking FOLLOW and entering your email is free and helps us a lot!
For more info on the project and/or to make a pledge or follow our campaign click here. Here is a link to our teaser and our crowdfunding pitch video.
Both also available at the Seed and Spark page by clicking the Media tab.