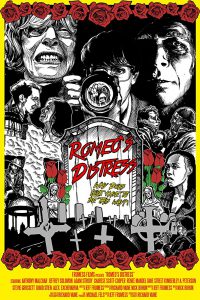 Synopsis
Romeo's Distress is a Weird, Shakespearean, Gothic, Horror-Thriller that tells a story of a boy named James, his unrequited love for a girl named Jane, and her father's sadistic (yet dutiful) response to it all.
Cast and Crew
Anthony Malchar – "James Ferrose"
Jeffrey Alan Solomon – "Dale Matthews"
Adam Stordy – "Bobby Sampson"
Charese Scott Cooper – "Grandma Washington"
Dave Street – "Uncle Elmo/Grandma's Body"
Renee Mandel – "Grandma"
Stevie John Grossett – "Seymour Flowers"
David "Voice" Stein – "Mr. Cundelini"
Alex Echevarria – "Dr. Myles Woodbine"
Kimberely A. Peterson – "Jane Matthews"
Einav Dahaman Frumess – "Barbara Matthews"
Nick Bohun – "Concerned Shopper"
Richard Vaine – "Grave Digger"
Jeff Frumess – "Fake Shemp"
Written, Produced and Directed By Jeff Frumess
Cinematography and Editing – Jeff Frumess
Music and Sound Department – Nick Bohun
Second Unit Director – Michael Fels
Awards
Macabre Faire Film Festival Jury Award for Best Screenplay – Feature Film, Nominated for Best Feature Film, Best Director – Feature Film, and Best Actor – Feature Film
Nightmares Film Festival Award for Esprit De Gore, Nominated for Best Screenplay – Feature
From Writer and Director Jeff Frumess
Keep an eye out for the future Wash Away Seed and Spark Campaign where contributors can pre-order Romeo's Distress on hand numbered limited edition Blu-rays. The discs will be packed to the gills with extras: Including the feature length microbudget filmmaking documentary Blood Visions – which details the 15 month no budget crusade to make Romeo's Distress and the struggles of trying to make a micro budget film. A glossy 11×17 poster of the cover art will come with every disc. his will be the only way to get a physical copy of Romeo's Distress. Every purchase through the Seed and Spark Campaign will directly go into the budget of Wash Away. The idea is that you can contribute to the creation of a new film by purchasing the previous one.