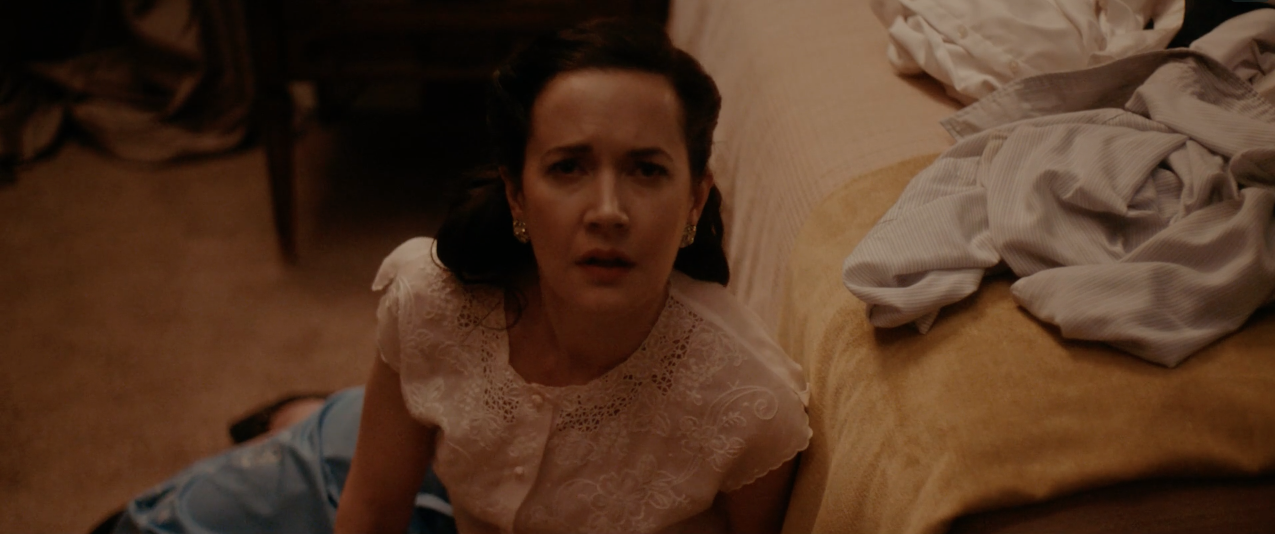 Once a year, the stores are filled with candy, roses, cards, and other hollow gestures of love shoved down our collective throats by corporations and retailer–because that's what love's all about. But for those of us who aren't into chalky candy hearts and thrift shop perfume, how do you get through the manufactured season of affection? By checking out all of the gender stereotype-bashing, blood and gore-flinging films that Women in Horror Month can offer. And what better time than Valentine's Day to release Scratch for the entire world to see?
Scratch is "the anti-Valentine's Day movie" when you talk to producer and star Bel Deliá. The film is set in the 1950's and focuses on a repressed housewife who finds herself medicating with pills and alcohol to cope with the distance growing between her and her philandering husband. To make matters worse, there's a scratch in the walls that's driving her absolutely mad. As her worst fears are realized, she finds herself wrestling with her own addiction and, soon after, the thing living inside her walls.
Scratch is a truly brilliant piece of horror fiction and, moreover, a film that highlights the roles women play in genre filmmaking. Directed by horror vet Emma Bell (The Walking Dead, Frozen, Hatchet II) and written by Helen Shang (Hannibal), there was an immense display of talent in those key roles. Meanwhile, star and producer Bel Deliá (The Tunnel) delivers a fantastic performance as Lily, the doting, overwrought homemaker on the edge. But there's more to a film than just the on-screen and directorial talent.
Women in horror are more than just scream queens. In Scratch, there were amazing women involved in almost every step of the process. Makeup effects, art design, set construction, music, sound, editing, and one in particular (which wouldn't draw much attention to some but stands out quite a bit to me): colorist. We take for granted that everything is in vibrant, brighter than life colors in the world and on film but we never stop to think who it is that makes sure those colors pop on the screen. Kristy Navarro was the colorist for Scratch and her devotion to her craft really shows. The set itself is that stereotypical, plastic fantastic 1950's mid-century style with wood grains and dark hues standing out against bright, vibrant pastels and patterned wallpaper. My first sensation in seeing the kitchen scenes was of wonder at just how alive and energetic the room looked, how it flowed with the movement of the characters.
Movies are as much art as they are entertainment and the elements of that art lie in the details. Regardless the run time, 2 minutes or 2 hours, the script has to be fluid, coherent, and have characters who are as realized and formed as you or I. They have to have purpose, motivation, and drive to act and to be. The world itself needs to not only be believable but beautiful and captivating with colors, lights, and design that inspires the imagination and holds it firmly in place until the last scene is finished. Music and sound need to transport the audience, to prepare their senses for the wonders or horrors that are yet to be found. And at fourteen minutes and some change, Scratch does all of this and more.
In a recent press release it was announced that Scratch will make its official public debut for free online through the Women in Horror Film Festival's Facebook page on February 14th. This after over a year on the festival circuit winning numerous awards and accolades. So grab your sweetie, have a nice dinner, and settle in for a bloody good time this Valentine's Day courtesy of some of the most amazing women in horror around.