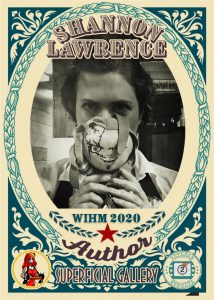 Shannon Lawrence is a veteran to the Gallery WIHM event. She is an Author.
What motivates you to do what you do?
Love of horror as a genre, and the desire to share it with others who feel the same. The catharsis it can offer.
Who is your favorite woman who does what you do?
Does Ellen Datlow count? She's in the same general area, but she's an editor. I respect her taste in horror and the time she's spent promoting the genre and the talent within it.
If you had one wish for women in your space in 2020, what would it be?
Respect. No more being told women don't know horror.
Share a practical tip for a woman who wants to do what you do.
Develop a thick skin. There are amazing women in horror, but there are always naysayers. Learn to move past the criticism and the ignorant offhand comments you run across, and enjoy creating.
Inspire someone who is not where they want to be in the industry yet.
Remember that it takes time to meet your industry goals. It won't happen instantaneously, but working toward it is a worthwhile journey, and one that will teach you more than you expected to learn.
What scares you!
The future. Of this country. Of my children. Of myself.
What projects do you have coming up?
I'm putting out a collection of horror short stories (current working title: Bruised Souls & Violent Delights), due out in late March. I've got two short stories coming out between now and then, one in Weird Tales, Issue #3 (due out February 2) and one in XVIII: The Underland Tarot Stories (due out March 20).
Finally, I'm excited to be part of a committee putting on a WIHM event called Bloody Valentine, here in Colorado Springs. We have readings from some amazing women in horror, most of whom are HWA members. It's going to be an inspiring night!
Important Links for Shannon Lawrence