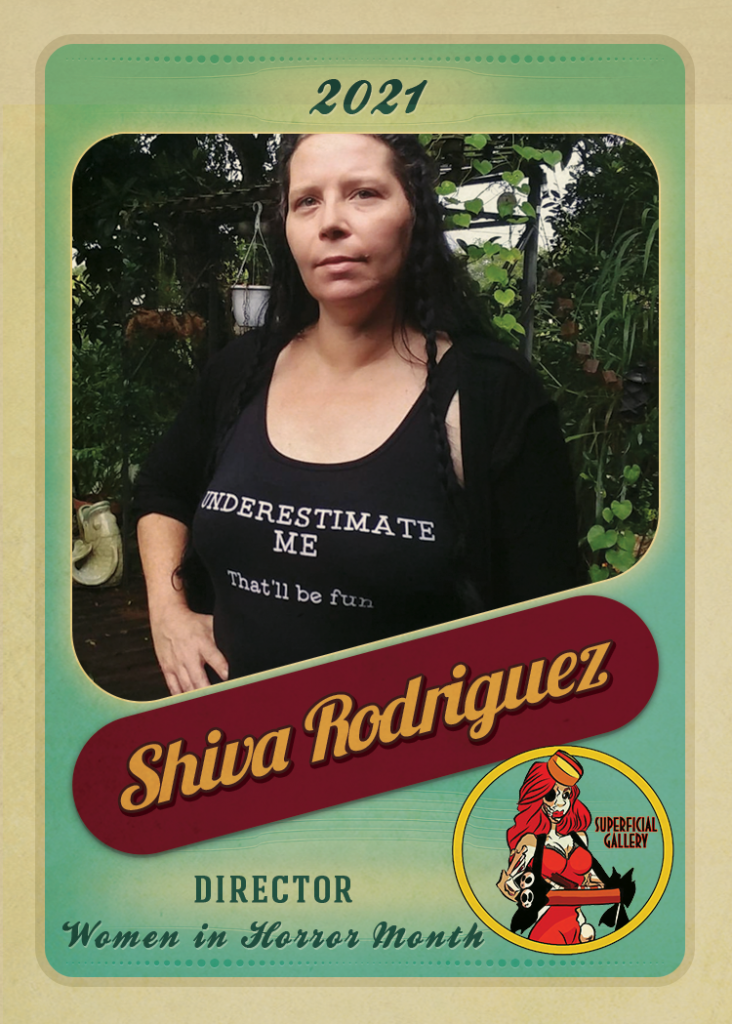 Shiva Rodriguez is a veteran to the Gallery WIHM event. She is a Director, Screenwriter, SFX.
How have you fared during the pandemic?
It has been a mixed bag. One of the things I've always thought was a benefit to being a film-maker, especially one who travels a lot, is that you get to meet a great many people. It has been troubling to learn that quite a few of them have been sick and that some have died over the past year.
I've pretty much been house-bound since March of 2020, which has forced me to concentrate more on things that can be done at home. But I really miss working on sets and being with groups of people.
What's been keeping you busy?
Last year Lowrie Fawley, who is my partner in Rogue Chimera Films, found out about the 48-hour film project holding a series of stuck-at-home film challenges, so we got a large team of people together to participate in several of those. That kept me pretty busy for a while and now I can honestly say that I've written and directed seven short films in less than a year (Although I gave my cat Hades the credit for directing two of them.) We are currently working on another one.
While it's not in the horror genre, I also started working on a web show last year. My friend Sandy is also house-bound, so we felt it was reasonably safe for us to get together a few times a month to work on my koi ponds. (I keep saying that raising koi is my retirement plan… as if film-makers really retire.) We decided to do show on the subject, so now we host "Our 'Relaxing' Hobby" on YouTube with a new episode premiering every two weeks.
I'm also doing a lot of writing. Lately I've been novelizing the feature screenplay for "Father of Lies".
What was your favorite piece of new horror media from the last year?
I wish I had a better answer for this, but I really didn't watch much other than the national news last year. I joked about it being my favorite horror channel.
However, this year one of my resolutions is to put a big dent in the watch-list I kept adding things to last year.
What are you looking forward to most in the horror community for 2021?
I am cautiously optimistic that Lowrie and I will be able to resume the Magic of Horror live festival in Richmond, VA in November.
Last year we ended up having to do a virtual awards show after we canceled the live event. (We added another day to the festival so that we can also screen the 2020 selections this year.)
What keeps from throwing in the towel when things get tough?
Sheer stubbornness.
Honestly, I have considered giving up a few times due to both a lack of support and my physical disabilities. But I always end up brain-storming for new ways to raise money for a project and how I can bad-ass my way through something despite being unable to walk half the time.
Sadly, I did lose my writing partner and a great actor to towel-throwing. I certainly understand the fatigue of constantly putting yourself out there to try to get something off the ground only to get kicked in the teeth repeatedly. And I'll admit that sometimes I'm envious of his much simpler life now. But I'm just too damned stubborn to quit.
What projects do you have coming up?
Rogue Chimera Films is planning to produce a feature in 2022. (We are hoping it is safe to do so by then!)
Since the pandemic brought most of our previous plans to a screeching halt as well as a huge dent in our ability to finance them, we came up with an idea that could be done on a minuscule budget. So Film Gods willing, we'll be back in production on location next year.
Important Links for Shiva Rodriguez