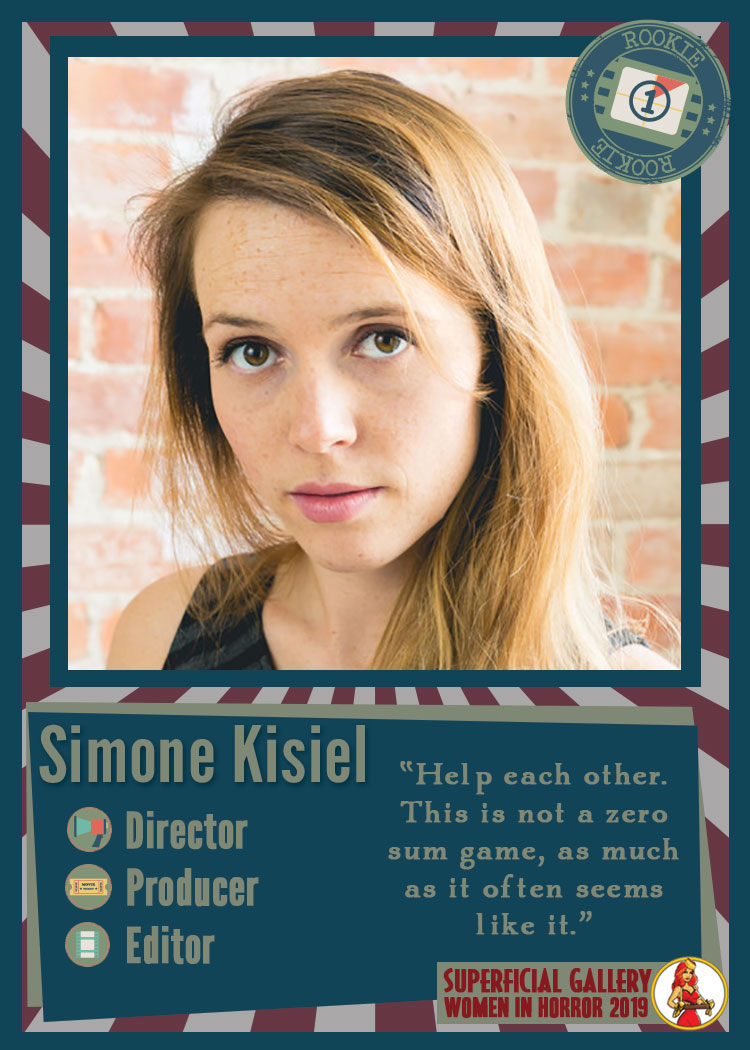 Views and reviews help Magic Dog Productions stay alive!!!
Our Conversation with Simone Kisiel
Simone is a Director, Producer, and Editor and is a rookie this year!
Which of your achievements to date are you most proud of?
I'm so outrageously proud of our film 'Bugs: A Trilogy' because it took us over three years to make it on the micro budget that we raised from over 215 people. Then seeing that film screen at the Women in Horror Film Festival 2018 AND taking home the Best Director of a Feature Film Lizzie… holy shit!
What's your favorite horror film and why?
My favorite horror film right now is 'The Descent.' This movie has a cold open that is viscerally horrifying and that grabs me by the eyeballs every single time. It's also got that underside of horror going, that dread that surrounds us when we know something isn't quite right. I love that the violence and dread created in the first sequence follows the band of women into the caves, where it unfurls itself on them one at a time. I also just fucking love seeing a group of badass women fighting subterranean monsters. Who doesn't, honestly?
Who is your hero in the horror world and why?
This will probably sound cliched as hell, but I don't care. My first real deep dive into horror was with Stephen King. The movies and TV I was watching as a child were being monitored, but not what I was reading. If I wanted to consume brutal true crime stories thoroughly explained in detail… enjoy! How about disturbing fiction from the likes of Dean Koontz? Have fun! With SK (who I share initials with! haha!) I was permitted to explore the crevices of my mind that I thought we weren't supposed to talk about, much less enjoy discovering. SK gave me the permission I needed to love that I loved really weird things.
Share a practical tip for a woman who wants to do what you do.
1. Don't wait. Get started today. Use whatever skills or resources you have around you and dive in. Sometimes it's the only way to move forward.
2. Help each other. This is not a zero sum game, as much as it often seems like it. Help your fellow filmmakers and you will see it come back to you in spades. Also, you know, it feels good to not be a dick.
Inspire someone who is not where they want to be in the industry yet.
The literal only thing in life that I'm qualified to do is to act (I have a minor in creative writing, but no one cares). Despite not having a piece of paper granting me access to certain industries, I've been running my own production company for over 4 years now! You can do *anything* at all that you want to do if you're willing to put in the work to get it right. Do the research, put in the effort and you will see yourself succeed.
Scare the crap out of us with something you have done or plan on doing!
I'm planning on generating/raising an actual budget to make a feature film with! *GASP*
What projects do you have coming up?
We've just locked down our latest short called 'Good Intentions' which was inspired in part by A Tell-Tale Heart. Next up, we've got a new feature in the works called 'The Company Line' that will have a similar trajectory as 'From Dusk Till Dawn' in that it goes from real world scary to… um what? 
Important Links for Simone Kisiel
Other places to find these films:
http://bit.ly/Bugs_on_GooglePlay
http://bit.ly/Bugs_on_YouTube
http://bit.ly/Bugs_on_iTunes
http://bit.ly/Bugs_on_Indie_Rights
http://bit.ly/Bugs_on_VUDU
http://bit.ly/Housed_on_GooglePlay
http://bit.ly/Housed_on_YouTube 
 Views and reviews help my business stay alive!