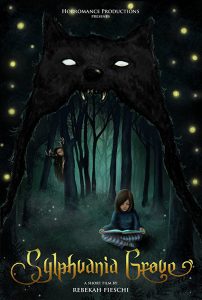 I'm sure that most of my dear readers would consider this a horror column. I watch horror films, I then review those horror films, and occasionally we talk about those same horror films. So, clearly, this is a horror column. Except, of course, when it's not. Today, for example, I'm reviewing the fantastic Sylphvania Grove from writer and director, Rebekah Fieschi. Sylphvania Grove tells the story of 10-year-old "Mycena", played exceptionally well and with intense ferocity by Maxine Wanderer, who finds herself following a "Will o' the Wisp" into the den of "Dotoira", a mystical fawn-like creature. It is in "Dotoira's" den that "Mycena" finds she has the inner strength to confront those trying to control and diminish her. This is not what I would call a "coming of age" story, per se, but it does incorporate some of those similar themes into a beautifully woven fantasy tale. It is not often that we see a true fantasy film, especially with this much depth and love of the genre, and this is a truly exquisite example of what can be done within the realm of fantasy. This is a tale that should resonate equally from younger viewers to old and from start to finish.
On to the truly important bit, my technical problems and praise. This is a great film. As I said earlier, there are far too few true fantasy films and this is an absolutely exemplary example of one. The color work is spot on. I was especially impressed with the lighting and color work in "Dotoira's" den. It genuinely feels as if there is a fire in the corner that is just out of frame, at all times. The sound design was done with great care and sounds beautiful. Director of Photography, Carlos Garcia de Dios has an excellent eye and his cinematography is stunning. There are two aspects of this film that truly stand out though, the makeup FX and the acting skills of Maxine Wanderer. First off, "Dotoira" looks incredible. Obviously, it is the work of every makeup FX artist to bring their characters to life, to make the supernatural or fantasy creatures we're seeing look as real as possible in order to draw us that much more into the story. Ricky Vitus knows his craft and he knows it well. "Dotoira" is stunningly beautiful. Her makeup work is on par with any big budget feature film's. Next, this is a superbly directed film. Rebekah Fieschi is a very talented and clearly immensely dedicated director. Speaking from personal experience, directing kids can be difficult and the outcome is not always as strong a performance as one would like. I've directed two short films that included child actors. Neither of these shoots had difficult children, the kids were wonderful to work with and I loved having the opportunity to work with them. Working with kids just takes more work and much more imagination. A simple bit of direction for an adult actor might require you to completely act out the scene while turning it into a game and singing a song when you're working with a kid. Maxine Wanderer's performance is phenomenal and that speaks volumes to Fieschi's skills as a director. Don't get me wrong, this also shows Wanderer's talents as an actress and the future she has ahead of her in the field but it also shows the type of incredible director Fieschi is. Here is just a taste of that passion, from the director herself:
The tarnished reputation of fantasy and the lack of layered, character driven, original fantasy films made me want to remind audiences that rich, vibrant worlds and relatable characters can still make an exciting piece of entertainment and does not need to be cheesy or childish. I'm fascinated by the masks most of us wear to protect ourselves from the world and the way this hiding our true selves to fit in can later to identity crises. With Sylphvania Grove, I wanted to explore the hardship of not wearing a mask and the journey to self discovery that comes with it.
With a crew, writer and director, and talented young actress all bringing their best work and dedication to a project like this it is no surprise that we are left with such a beautiful film.
So, it has been thoroughly established that this is not a horror film. It is not the littlest bit scary or terrifying or even a bit frightening. This is a beautiful, well acted, and stunningly shot film about a young girl that finds herself transported into a fantasy world that teaches her how to be strong and how to keep her resolve no matter who is trying to change her or force her to be someone or something that she's not. I truly loved this film. I loved it so much that I'll be putting it on to watch with my kids, aged 3 to 14, and I've no doubts about whether they'll enjoy it. Sylphvania Grove will be in my Top 10 Indie Films of the Year (More on that later, much later) and I hope to see it take the festival and convention circuit by storm. Please, take some time to hunt this one down.