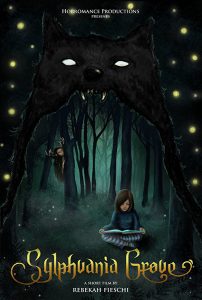 A troubled girl follows a magical being into the woods where her fears take on fantastic forms.
Synopsis
Mycena doesn't fit in at school and her parents are never home, she finds refuge only in her books and fantasy stories, pushing away her caring babysitter, Kim. Once night has fallen and all the lights in the house are shut off, Mycena secretly sneaks under the blankets and begins to read again. A magical being pops out of her book, it beckons her to follow it into the woods where she will have to confront her fears to make a fantastic discovery.
From Writer and Director Rebekah Fieschi
Sylphvania Grove was born from a passion for the fantasy genre, a cruel lack of adventurous heroines to identify with during my childhood, and a burning desire to show that you can be quiet and still be a hero.

The tarnished reputation of fantasy and the lack of layered, character driven, original fantasy films made me want to remind audiences that rich, vibrant worlds and relatable characters can still make an exciting piece of entertainment and does not need to be cheesy or childish. I'm fascinated by the masks most of us wear to protect ourselves from the world and the way this hiding our true selves to to fit in can later to identity crises. With Sylphvania Grove, I wanted to explore the hardship of not wearing a mask and the journey to self discovery that comes with it. I chose a introverted, outcast and bookish type of character to illustrate how great this challenge can be and that the most unlikely person can be the most courageous. The use of fantasy allowed me to create exciting characters, use symbolism for a more visual style of storytelling, and tell a story that can be interpreted on different levels.
Cast and Crew
Mycena – Maxine Wanderer
Kim – Charlie Gillette
Dotoira – Meaghan Bloom Fluitt
Mother – Jessica Baird
Father – Al Pagano
Wolf Girl – Samarah Conley
Written, Produced and Directed By Rebekah Fieschi
Co-Producer – Adam Harvanek
Executive Producers – Pierre-Paul Fieschi, Stephen Lester
Associate Producers – Thomas Barrier, Julie Chessman, Daniel Fieschi, Dippen Zinzuvadia
Director of Photography – Carlos Garcia De Dios
Composer – Zak Millman
Assistant Director – Ashley Vanderwaren
Editor – Andrew V. Kaham
Costume Designer – Joann Cowley
Production Designer – A. Wilcox
Art Department Assistant/Illustrator – Renée Heitman
Poster Artist – Katarzyna Kowalska
Special Effects Make-Up Artist – Ricky Vitus
Visual Effects Artist – David Gechman
Colorist – Jared Melman
Sound Recordist – Juan Pablo Tramujas
Sound Design – Jordan Fehr
Score Orchestrator – Jordan Cox
Score Recordist & Mixer – Shaun Chasin
Violin – Emily Lenck
Cello – Ro Rowan
Key Hair & Make-Up Artist – José André Sibaja
Lifecast Assistants – Mitchell Domer, Raven LaFontant
Camera Assistants – Nada Stjepanović, Jonathan Clarke
Gaffer – Collin Chiucchini
Key Grip – Jesus Sanchez
Grips – Angel Rodriguez, Dan Rodriguez