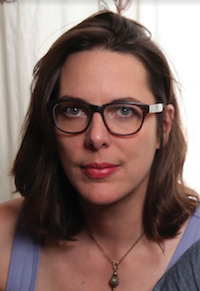 In honor of Women in Horror Month, and mostly just because I'm a big fan, I sat down to do an interview with the incredibly talented Tara C. Hall. You might remember her from her work on Buzzard Hollow Beef, which I reviewed last year.
You can read the review here: https://superficialgallery.com/buzzard-hollow-beef-a-deliciously-twisted-blood-soaked-trip/192580/
Or, even better.
You can watch the film here: https://www.amazon.com/Buzzard-Hollow-Beef-Scott-Brown/dp/B07796XT77/ref=sr_1_fkmrnull_1?crid=2P6L1RTFB370A&keywords=buzzard+hollow+beef&qid=1551135612&s=gateway&sprefix=buzzard+h%2Caps%2C223&sr=8-1-fkmrnull).
She is a very talented filmmaker and it gives me great joy to be able to get to know her better as we watch her filmmaking career continue!
First, tell us a bit about yourself.

I'm a hardcore, norm-core mother of two, wife of one. I was born in Philadelphia. I moved to Los Angeles about fifteen years ago. It took me a long time living here to realize that I don't have to wait for someone to give me permission, so now I write, produce, and direct as much as I can. Buzzard Hollow Beef was my first produced feature. Single Family Home will be my directorial debut. Although I write in just about every genre, I find that horror and comedy are the most successful for me.
Who or what inspired you to get into indie filmmaking?

I would say, I'm a filmmaker by choice and an indie filmmaker by necessity. I thought that I was going to be a fine artist until I saw Evil Dead and Evil Dead 2 for the first time. Before that I thought film was an inaccessible, elitist, impossible to break into industry (so is the art world for that matter). I still think that's an accurate assessment, but that just means that I'm not and may never be famous. It doesn't mean I can't make films.

Why choose the horror genre, specifically?
I love horror because it allows you to take a story to an extreme that you couldn't in, say, a drama. There is also a element of catharsis that I identify with. In my real life, I like to think I'm a happy and positive person. I wasn't always. I still struggle with depression and anxiety. Horror gives me a place to put my most horrific thoughts, a way to exorcise the grotesque parts of my psyche. If I have place for the darkness, I don't have to carry it around with me.


How has the response to Buzzard Hollow Beef felt for you, as a filmmaker?
The response has been small, but positive. If you're one of the 23 Amazon reviewers, I see you and I thank you. I appreciate everyone who took the time to watch our little horror film. I know how inundated we all are with new content. I was pleasantly surprised with the feedback.
–
Filmmaker to filmmaker, what do you find is the most difficult part of the job? From both a technical and emotional or mental viewpoint.
I think doubt is the most difficult part of the job for me. I can handle the long hours, the hard work that you have to put in, and even the constant hustle that you have to do at this level. But that nagging inner voice that asks whether I'm good enough or whether I deserve to make films will make any project seem impossible.
As a huge fan of Buzzard Hollow Beef and getting ready to release my review of the script for your upcoming film, Single Family Home, I'm really curious to know what other projects you have in the works?

Ahhh, wow. Thanks, man. As far as other projects, I'm currently developing two thrillers, one is about a serial killer who is a cross between Belle Gunness and Ted Bundy. The other is a home invasion thriller and the main characters are a thirteen year old girl and a ten year old boy. Both are inspired by my obsession with True Crime and my frustration with the conversation surrounding victims, who are predominantly women and children. I'm also in a sketch comedy group called Great Aunt Sally. We will be releasing some video sketches over the next few months. I have many other projects I'm itching to start and others I'm itching to finish. I'm always writing, even when I'm supposed to be doing other things, it's a compulsion of mine.

With everything that's been going on in this industry, do you find that being a woman has been beneficial to your career or has it just created that much more difficulties?
I think it's both beneficial and difficult to be a woman in this industry right now. There is a little bit more opportunity. I know I can offer a different perspective than many of my male counterparts, but it's not a meritocracy and not just because of discrimination. I can't dwell on it though. I just put my head down and keep working.

As a woman working in the horror industry, and filmmaking in general, what would you like to tell women looking to get into the industry, at any level, to help them take those steps?
I would tell women entering the industry, no matter what genre they focus on, they just need to find their community. Independent horror has a small, but amazingly, supportive community. Get to know them. Ask for help on your projects. Offer to help on theirs. Just get yourself out there.


And lastly, what would you like to tell our audience about Single Family Home, to get them that much more excited for it?

Single Family Home is about a couple who are moving into a new home and preparing for the arrival of their adoptive daughter, but as they unpack, they realize someone else is living in the house with them. They eventually come face to face with the stranger and spend the rest of the film trying to get her out. The situation is uncomfortable and tense, but just like the couple, we don't know until the very end, how much of a threat this stranger really is. It's part horror, part thriller, part drama, and part satire. Bel and I are really looking forward to shooting this and we've already cast some fantastic talent.
You can follow and support Tara's upcoming project, Single Family Home, at their Facebook page and ongoing Indiegogo campaign.
No tags for this post.