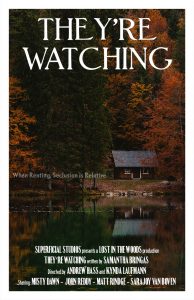 The second film from Superficial Studios, They're Watching, was filmed earlier in January in snowy Washington state.  Penned by Samantha Bringas, the horror short is the first of her films ever produced and we could not be happier with our choice to make it or the quality of the work done by everyone involved.
Shot on a shoestring budget, the pics below should show you how dedicated the cast: (Misty Dawn, Sarajoy Van Boven, John Reddy and Matt Rindge) and crew (Co-Directors Kynda Laufmann and Andrew Hass along with photographer Brie Edwards who took every gorgeous shot) are, braving the snow and the cold to bring the script to life.
Click through the gallery for some genuine behind the scenes flavor.  And special  thanks to the folks who donated their property for the shoot.  The film is scheduled for release 1st quarter, 2020.  We are happy and proud to be able to be a part of it and cannot wait or everyone to see the finished product.  Subscribe to the site to get all the updates as production moves on!
Superficial Studios
Superficial Studios is dedicated to working with screenwriters and filmmakers with significant funding and recognition hurdles by leveraging the time, talent and treasure of some incredible people to get their films made.  Our own Andrew Hass runs Lost in the Woods Productions with Kynda Laufmann and is throwing all of their considerable talent and physical resources at this venture to make it possible.