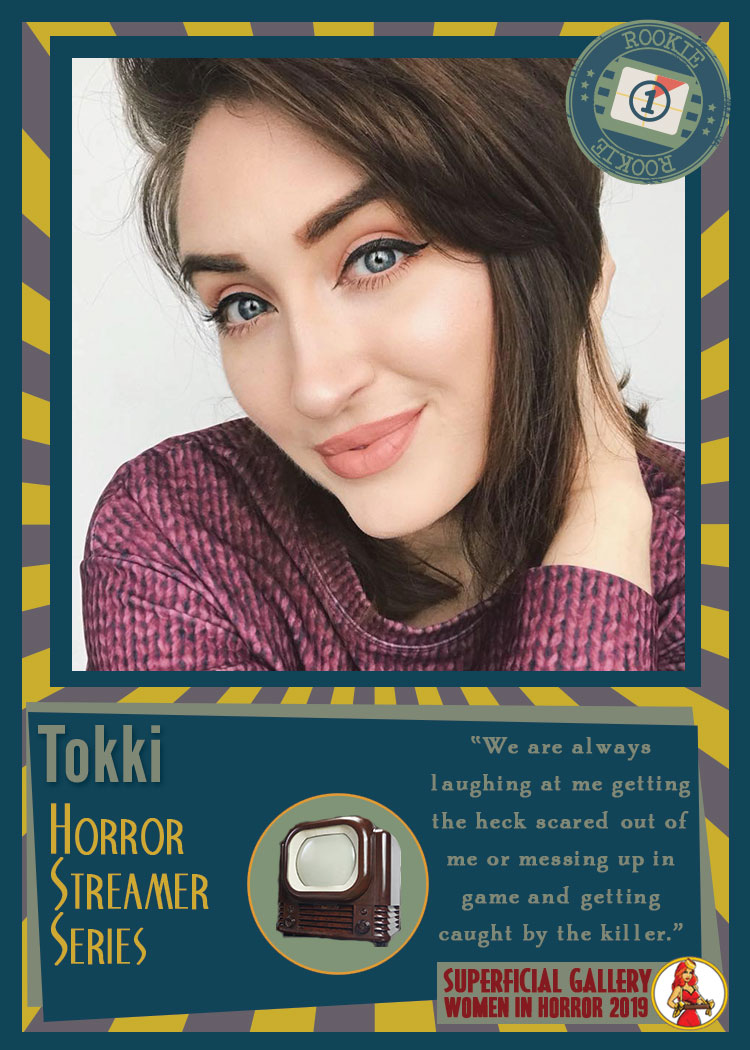 Our Conversation with Twitch Streamer Tokki
Tokki is a rookie to the Women in Horror Month Celebration and streams horror games on the Twitch platform. She is also what we hope to be the first of many Women Horror Streamers!
Check out the interview below, and be sure to follow her on Twitch!
Why do you prefer horror games?
Hands down, I prefer horror games for that rush of adrenaline! Always exciting and never boring, horror games just provide the most immersed form of entertainment for me. Games, unlike movies, are a more hands-on experience for the consumer as they require constant snap judgement and in-game decision making that must be made under pressure which affects the outcome of your survival. This keeps me literally on the edge of my seat, as I get to be a part of the thrill that is the horror genre.
Do you like horror in other media
I do! I'm an October born baby and I think a love of all things spooky has just always been a part of me. I feel like I come alive during the month of October and I wish the world would celebrate Halloween year-round! I celebrate Halloween to the fullest all month by decorating, traveling to the best haunted houses to support the wonderful actors and cosplayers who bring horror to life for us, and I always dress up myself! I love classic horror films and newer ones as well. Some of my favorites are the original Halloween, Friday the 13th, The Conjuring, and Cabin in the Woods. Nothing better than seeing a good horror film on the big screen!
What are some of your favorite games?
My favorite game right now is Dead by Daylight. It's an asymmetrical horror game in which you can play as the killer or a survivor and I am absolutely obsessed with it. It is a blast to play and I highly recommend it to anyone who loves horror! I also adore the game Layers of Fear, which combines my love of art history and psychological horror. My favorite non-horror games are Overwatch and The Witcher 3: Wild Hunt.
What do you like about streaming?
My favorite thing about streaming is without a doubt my interaction with my community. I have an incredibly supportive and loving community, not just towards me but with one another. We have a very interactive relationship with lots of back and forth banter. We are always laughing at me getting the heck scared out of me or messing up in game and getting caught by the killer. My community gives me energy and inspires me to create content that I can only hope puts a smile on their faces, entertains them, and hopefully brightens their day a bit. I wouldn't be streaming if it wasn't for them.
If you could build your dream horror game, what would it be?
That's tough because I feel like I have two dream horror games but they are so different. Dead by Daylight and Layers of Fear are perfection in horror video game form. One other love of mine? Harry Potter and fantasy realms in general. It would be incredible to see a horror game that included certain magical elements of witchcraft while maintaining the classic horror tropes that I love so much.