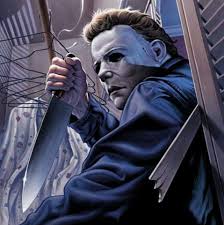 Hi there, welcome to Tuesdays with Michael. Every Tuesday I'm putting the spotlight on one of horror and Halloween's most iconic figures, Michael Myers. You may recall Myers from the hit movie, Halloween, in which he became infamous as the brother that just couldn't let his baby sister live her life. Literally. Halloween made its big screen debut in 1979 with John Carpenter at the directing helm. Myers, created by Carpenter and Debra Hill, became the antagonist in a long line of films – some remade with a different perspective – most sequels to the insanely popular original movie.
Michael's origin story is one for the books. A seemingly normal six-year-old child murders his older sister, Judith, on Halloween night 1963, to the surprise of family and neighbors. After spending fifteen years at Smith's Grove Sanitarium, under the care of psychiatrist Dr. Sam Loomis, Myers escapes and begins his trek back to his hometown of Haddonfield, IL, to pay his baby sister a visit. Chaos ensues as a night of trick or treating turns into mayhem no one in Haddonfield expected to happen in their once sleepy town. Myers goes on a murder spree, leaving Laurie with virtually no friends left – big brothers can suck! – and fighting for her life as her brother tracks her down. She manages to outwit Myers and shoots him from the second story of a house, leaving him lifeless – or so one would assume. Dr. Loomis, who has been desperately trying to track Myers since his escape, discovers the body is gone, thus creating an obsession that has produced over ten films, two of which were re-written and directed through the creative eyes of Rob Zombie. The latest installment will be in theaters October 19th, 2018.
Comment below and tell me which film was your favorite. Are you excited about the next installment out later this month? Will you be seeing it on the big screen or waiting to Netflix and chill? Happy haunting from Mells Bells!