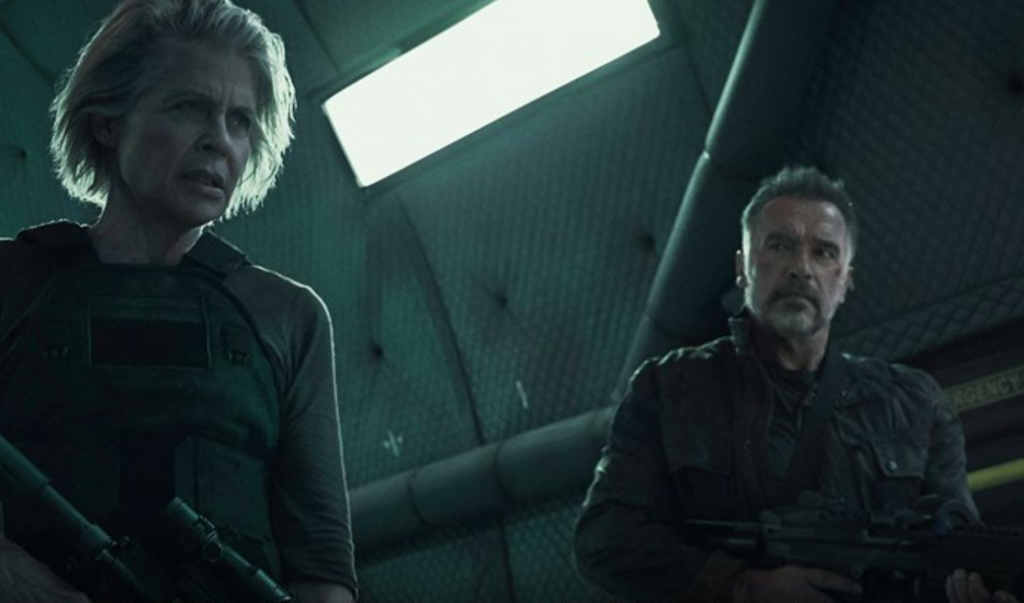 Arnold Schwarzenegger is perhaps the only actor who's been in all Terminator movies to date. Well, sort of – he lent his younger visage to the production team of Terminator: Salvation and they put it on a buff cyborg body played by Aussie bodybuilder Roland Kickinger. He didn't act in the movie, saying that he was too busy playing the governor of California but I think this was just an excuse, considering that he later confessed to having hated the guts of McG's take on the story. The fact of the matter is that Arnold Schwarzenegger IS the Terminator. Along with Linda Hamilton, they are the two famous faces on slot machines, lunch boxes, action figures, and whatever else bears the brand (or one of its knockoffs). Arnie wasn't involved with Salvation but he was there in the other three films made after the legendary T2. The fact that the films mostly sucked was not his fault: he played his role great. He will return once again in Terminator: Dark Fate, reprising his role as a superannuated killing machine from a future that may or may not exist. He (and Linda Hamilton, of course, "worse ass" than ever, if this is even a thing) is not the only thing familiar about the upcoming Terminator movie, written by James Cameron and directed by Tim Miller of Deadpool fame. Actually, Cameron seems to have salvaged a couple of clever ideas from the previous movies to beef up his script for the new film.
The cyborg
One of the new elements introduced to the Terminator lore by Salvation was Marcus Wright, the half man, half machine character played by Sam Worthington. While awaiting execution for his crimes, Marcus gets the offer gazillions of other death row inmates have gotten before him: participate in an experiment that may or may not kill him (or walk to the chair and be fried). As you might expect, he chooses the lesser of two evils, only to wake up decades later in a war-torn America overrun with killer robots, stronger, faster, and with metal under his skin. Of course, he is mistaken for a Terminator…
Grace, portrayed by Mackenzie Davis in Dark Fate, also happens to be a cyborg. This time, in turn, not an experimental cyborg from the past but one from the future. She is a trained assassin, fighter, you name it, she is fast, strong, and bulletproof. Oh, and she has metal under her skin…
The hybrid Terminator
The first Terminator sent by Skynet to terminate Sarah Connor was a metal skeleton covered in flesh. The second Terminator sent by Skynet to terminate John Connor (and Sarah Connor, of course) was an advanced model molded out of liquid metal (mimetic poly-alloy). The third terminator sent by Skynet to finally get rid of the annoying thing called John Connor (Sarah was dead by then by no fault of any killing machines sent from another time) was a combination of the two: a metal skeleton covered in mimetic poly-alloy. And it happened to prefer the shape of the 5-foot-11 half-Norwegian blonde actress Kristanna Loken (usually dressed in a red leather suit).
Well, the new Terminator (revision 9), portrayed by Gabriel Luna, is a new generation of machine, a metal skeleton covered in mimetic poly-alloy. Oh, wait – actually, it's an advanced Terminator skeleton wrapped in a mimetic poly-alloy Terminator, and the two can move and act separately. Basically, an upgraded T-800 wrapped in a T-1000 that prefers the likeness of the 6-foot-1 actor…
Eat that, Robert Patrick.