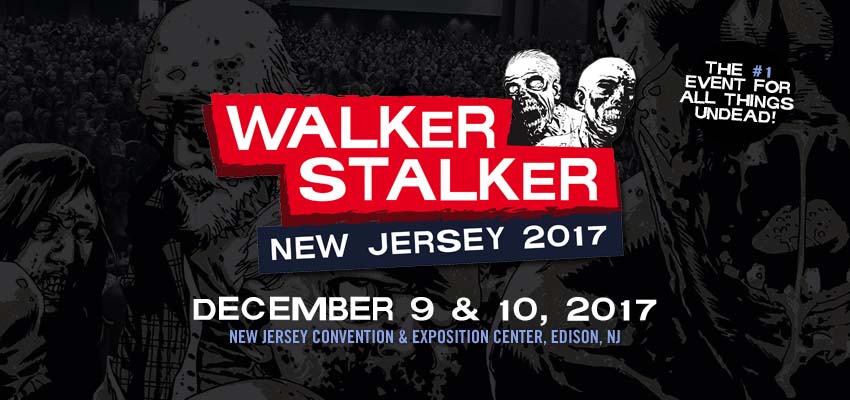 The Walker Stalker Convention is a well organized, action-packed fun time. They should let the people who run it also it run the TV show. I think now that a week has passed since I went to the show and saw the mid-season finale, I can say that I hated the mid-season finale and LOVED Walker Stalker. It's different than any other con, and that is both good and bad. But on the whole it is good. The Walker Stalker experience is like no other. So let's discuss why. Oh and there might be some Walking Dead spoilers in here so beware!
Guests
As always, the roster for Walker Stalker is heavy on the Walking Dead (derh) and this show was no exception. Jeffrey Dean Morgan was the headliner (to my mind, anyway) but the whole show was pretty packed. Click the Learn More box to see the whole lineup:
Click here to learn more
Greg Nicotero – The Walking Dead
Jeffrey Dean Morgan -Negan, The Walking Dead & John Winchester, Supernatural
Chandler Riggs -Carl, The Walking Dead
Tom Payne -Jesus, The Walking Dead
Sonequa Martin-Green -Sasha, The Walking Dead
Michael Cudlitz -Abraham, The Walking Dead
Christian Serratos – Rosita, The Walking Dead
Alanna Masterson – Tara, The Walking Dead
Scott Wilson – Hershel, The Walking Dead
Katelyn Nacon – Enid, The Walking Dead
Ross Marquand – Aaron, The Walking Dead
Jordan Woods-Robinson – Eric, The Walking Dead
Khary Payton – Ezekiel, The Walking Dead
Cooper Andrews – Jerry, The Walking Dead
Austin Amelio – Dwight, The Walking Dead
Steven Ogg – Simon, The Walking Dead
Michael Rooker – Merle, The Walking Dead
IronE Singleton – T-Dog, The Walking Dead
Austin Nichols – Spencer, The Walking Dead & Sam Loomis, Bates Motel
Ron Perlman – Clay, Sons of Anarchy & Hellboy
Ryan Hurst – Opie, Sons of Anarchy
Tommy Flanagan – Chibs, Sons of Anarchy
Kim Coates – Tig, Sons of Anarchy
Mark Boone Jr. – Bobby, Sons of Anarchy
That's a pretty snazzy lineup. They had to compete against ACE Comic Con on Long Island which had the whole Justice League (except for Ben Affleck) but according to my sources, Walker Stalker was sold out the entire weekend. So while I am sure that people spent their $175.00 to get a pic with Gal Gadot wisely, it didn't crimp the style of anyone at this show. Saturday was apparently the craziest day because JDM was there. And he made a bit of news I guess by saying there was a particular DC comics part he is hoping to get. And I actually have an idea on how they can do it without it being stupid, but I will save that for another post.
Now remember, Walker Stalker is not stuffed into some hotel. It is always in a big honking convention center with orderly lines that you have to walk through to get to the stars. You know the line rope things they have at the bank? That is what they do for the lines at this show. And I get it. Some shows with people sitting at those tables, there are people creeping by sneaking pics and whatnot. That's harder to do when the aisle is 20 feet wide and then there is 10 feet of iron maze to get through filled with fans. So like I said, I get it. But it is weird compared to other places.
Panels
The panels at the Walker Stalker shows are outstanding. I know for a few reasons, but full disclosure, since I was at a conference for work last Friday AND Saturday, by the time I got there Sunday all the stuff was pretty much over with. 🙁 But I have been to a few so I can vouch! I wish I had seen Chandler Riggs, though. Knowing what he knew, it must have been tough to listen to folks' questions, etc. I wonder how many of the other cast members knew. I also wonder if Greg Nicotero feels bad that he has screwed the show up so badly. But I don't think that would be a good question to ask at a panel.
Venue
This is my big beef with the show. It feels like a big old warehouse. That's mainly because it is in a big old warehouse! It is organized, it doesn't ever really feel super crowded even when it IS super crowded and every detail is covered. The signs, the banners, all of it is branded perfectly. But maybe it is the fact that there are no carpets? Seems silly, but now that I think about it, that might be it. I am not sure how you could carpet a whole convention center, but I think they should try it. What could it hurt? Think how much less echoey things would be!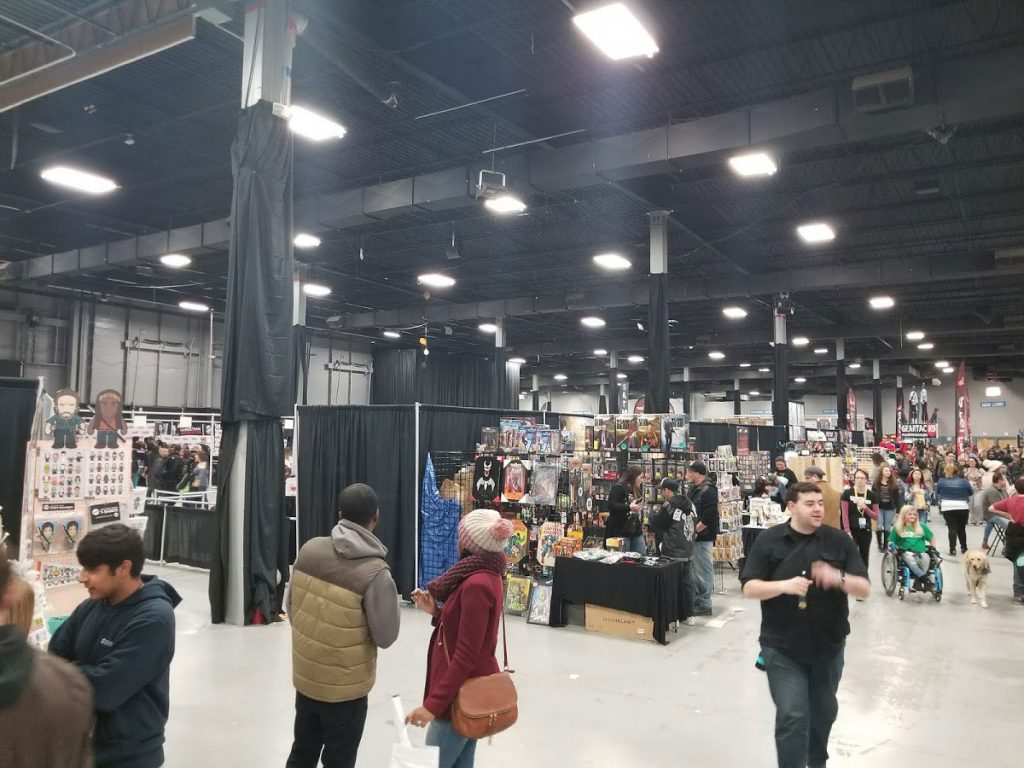 The vendors are NOT the same old same old. I got some things I have legitimately never seen anywhere else and am glad I did (check out the pic below!). I always try to support the vendors at the shows if I can. Except the ones that I think just rip off things without licensing them. It might not be fair, but I don't understand how licensing works so whatever. They also have a big tattoo place at the show, which is weird because I don't think they sell booze so anyone getting a tattoo is getting one sober. That's dedication!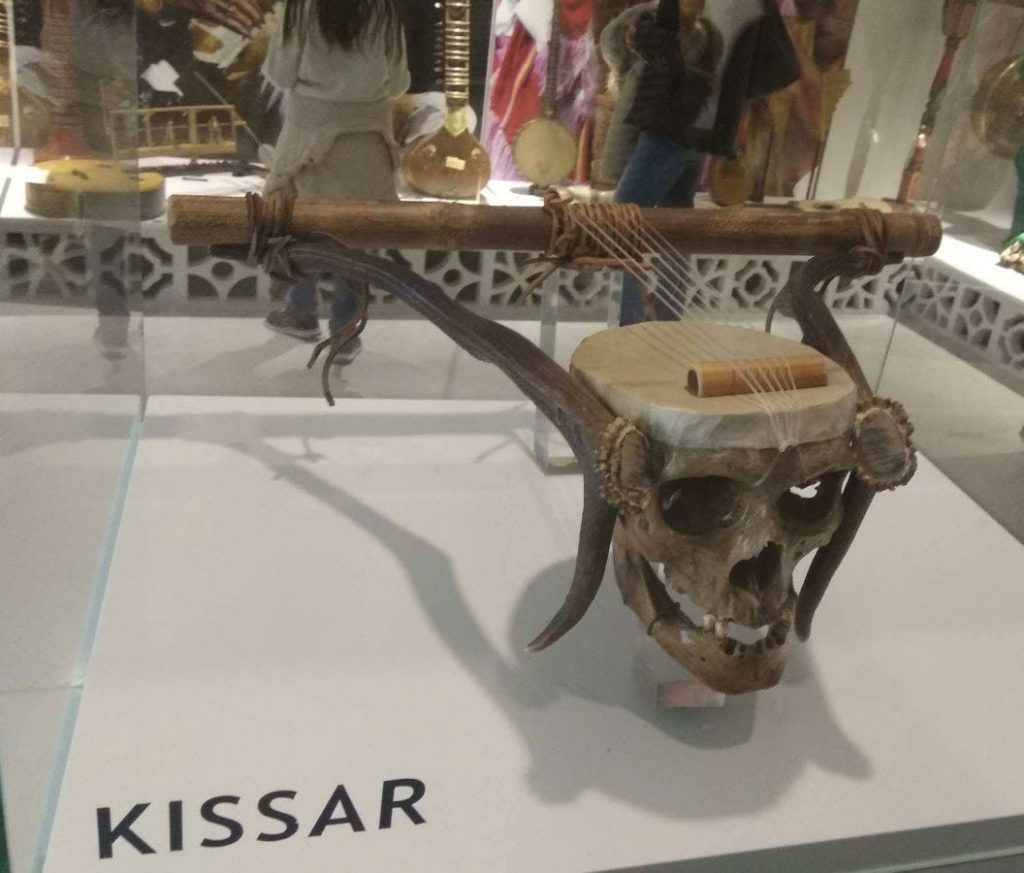 The food is good and they always have this soda company whose soda is so sugary and delicious that it is worth having all your teeth fall out and the inevitable diabetic coma. When I went to the Charlotte show I got their free refill cup that I then forgot to bring to this show because I'm a dope.
Attendees
I missed the cosplay contest (because I suck) but I did see this guy and he was the best so highest marks for attendees are achieved.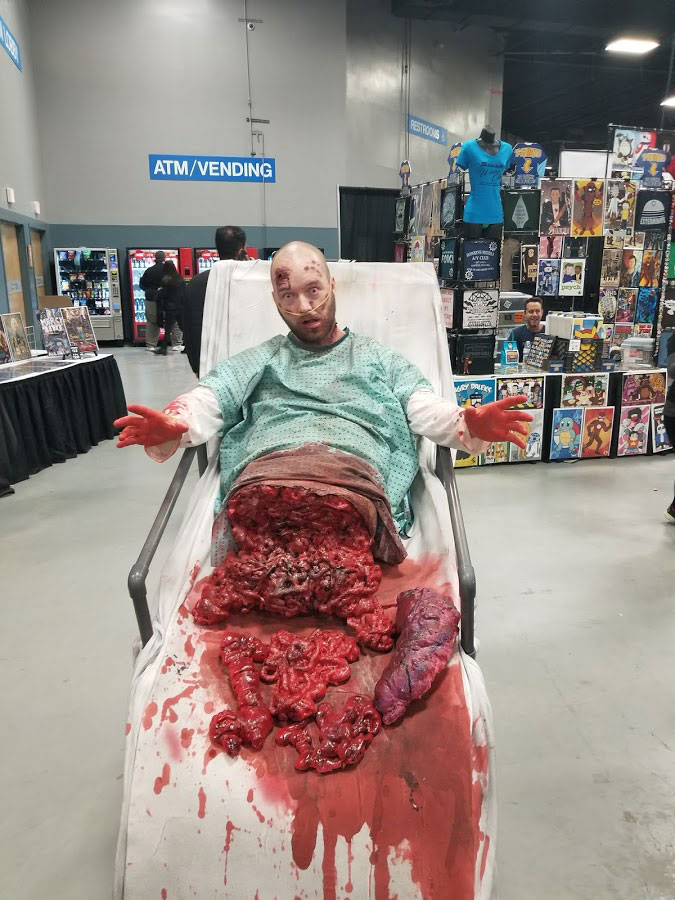 Also, there are always SO many Shegans, Weegans and Hegans that I forget to take pics of them. Man – who would have thought a leather jacket buttoned up no matter how hot it is and a rubber bat with rubber barbed wire on it and fake stubble would be a popular costume….
If I was going to dress up I would be Carl. Big dumb hat and an eye patch. Dunzo!
Final Thoughts
Like most shows, if you are there to walk around, see the vendors and maybe get some autographs, it is a one day show. But they do SO many panels and they start on time and the mods are great and it is just so well run that I can recommend it to anyone without reservation. But if you are way into the Walking Dead experience and want to listen to the stars get really down to Earth while drinking a soda that is so sugary it alters your actual blood chemistry, get a weekend pass. You won't regret it! Now all I need to do is make it so the Soska Sisters are guests because they will hop over those barrier things super fast! heh.
4.5 of 5 masks for Walker Stalker NJ, 2017!